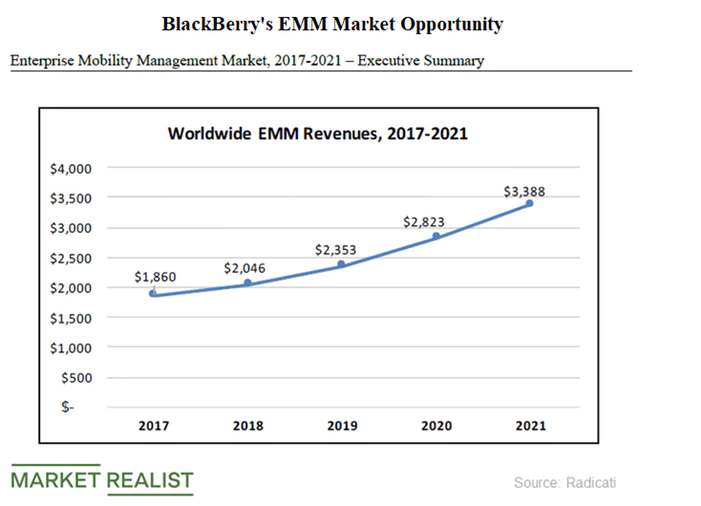 Which Segment Will Drive BlackBerry's Fiscal 2019 Revenue?
By Adam Rogers

Dec. 11 2018, Updated 11:15 a.m. ET
Enterprise Software & Services to grow by double digits in 2019
In fiscal 2019, BlackBerry (BB) expects its total Enterprise Software & Services segment billings to grow by double digits in fiscal 2019. The revenue growth is estimated to rise between 8% and 10% this fiscal year. Enterprise Software & Services is BlackBerry's largest business segment. The company has managed to secure several deals driven by its expertise in security.
Article continues below advertisement
BlackBerry Technology Solutions
BlackBerry Technology Solutions sales are expected to grow at a robust pace in 2019. This year, revenue growth is estimated at a healthy 20%, though this is lower than the 30% growth experienced in the last few quarters.
Licensing revenue
BlackBerry's Licensing segment's revenue is estimated to grow as well in fiscal 2019. In IP licensing, BlackBerry has over 37,000 patents with an average lifespan of ten years. The licensing vertical has generated $200 million in sales on an annual run rate basis.
The company's Licensing sales fell to $126 million in fiscal 2017 from $151 million in 2016. Sales then rose 55% to $196 million in 2018. Over 50% of BlackBerry's licensing sales are recurring in nature.
Enterprise Mobility Management
The Enterprise Mobility Management market is estimated to rise from $1.86 billion in 2017 to $3.38 billion in 2021, according to Radicati Group. BlackBerry is optimistic about opportunities in the EMM space.
The company expects the IoT (Internet of Things) installed base to grow to $75.0 billion in 2025 with the enterprise sector accounting for a substantial portion of these revenues.