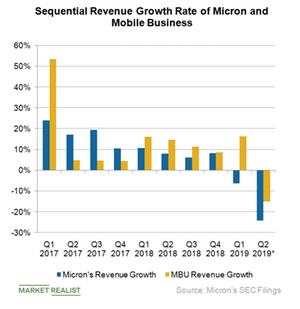 What's MU's Strategy to Gain a Share in the Mobile Memory Market?
By Puja Tayal

Dec. 28 2018, Updated 2:05 p.m. ET
Mobile business
Micron Technology's (MU) CNBU (Compute and Networking Business Unit) took a hit in the first quarter of fiscal 2019 due to inventory adjustments by its graphics, enterprise, and cloud customers.
The weakness in Micron's CNBU was partially offset by strength in its MBU (Mobile Business Unit), which offers low power double data rate DRAM (dynamic random-access memory) and managed NAND (negative-AND) solutions for mobile.
Article continues below advertisement
MBU's earnings
The first quarter of the fiscal year is a seasonally strong one for mobile component suppliers. Apple (AAPL) and many other handset makers launch their flagship products, and holiday season sales kick in. In the first quarter of fiscal 2019, the MBU's revenue rose 17% sequentially to a record $2.2 billion, accounting for 27.8% of Micron's revenue.
On Micron's fiscal 2019 first-quarter earnings call, its CEO, Sanjay Mehrotra, said that the MBU's sequential growth was being driven by strong seasonal sales and new product wins with several customers. The shipment of the company's newly launched high-performance Universal Flash Storage managed NAND products nearly tripled sequentially in the November quarter. However, this growth is likely to slow as the demand for high-end smartphones falls. We expect Micron's MBU revenue to fall 15% sequentially to $1.88 billion in the second quarter of fiscal 2019.
Micron's MBU growth drivers
On its 2018 Investor Day, Micron said that it expects the mobile memory market to grow from ~$45 billion in 2017 to $54 billion in 2021, with the majority of the growth coming from increasing memory content per mobile. Mehrotra stated that content growth is expected to continue as the average smartphone starts offering flagship features such as AI and multiple cameras. The demand for content should continue to grow as 5G technology is rolled out in 2019.
Micron has introduced 1Y 12 GB low power DRAM, which offers the highest density in the mobile market. Mehrotra stated that the company's average NAND density within its multichip package portfolio had risen over 25% sequentially and over 150% year-over-year in its most recent quarter. The company aims to gain mobile memory market share by offering these high-density products.
Next, we'll look at Micron's storage business.