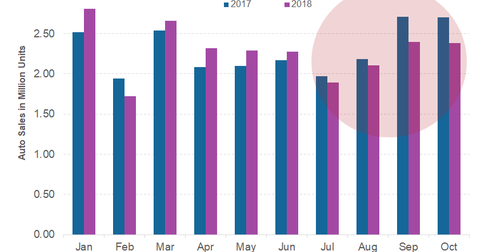 What US-China Trade War Ceasefire Means for Auto Industry
By Jitendra Parashar

Dec. 3 2018, Published 3:18 p.m. ET
Trump-Jinping meeting
In the previous part of this series, we looked at a key development in the US-China trade war. On Saturday, December 1, US president Donald Trump and his Chinese counterpart Xi Jinping met during their visit to Argentina to participate in the G20 summit. Both leaders agreed not to escalate the trade tensions for the next 90 days.
Article continues below advertisement
Auto industry's woes
Since the beginning of his presidential campaign, President Donald Trump has been quite vocal in blaming US automakers (XLY) for ignoring US auto workers' interests. After assuming office in January 2017, Trump has publically criticized automakers including Ford (F), General Motors (GM), and Toyota (TM). After receiving repeated threats of steep import duties on its imported vehicles, Ford (F) canceled its plans to shift production to Mexico in early 2017. Instead of helping US automakers create more jobs in the US by making favorable policies, the Trump administration triggered a trade war with China, increasing automakers' pain. As a result, auto companies including Ford, GM, and Tesla (TSLA) are paying steep tariffs in China, which is affecting their sales in the world's largest auto market.
The recent step to pause the US-China trade war for 90 days might not prove to be a permanent solution to the auto industry's woes. Ongoing negotiation during this 90-day period could keep auto investors on their toes as they continue to speculate about a possible outcome of these negotiations. Thus auto stocks could remain highly volatile in the coming weeks.
In the next part, we'll continue discussing the possible impact of they ongoing US-China trade negotiations on the auto industry.