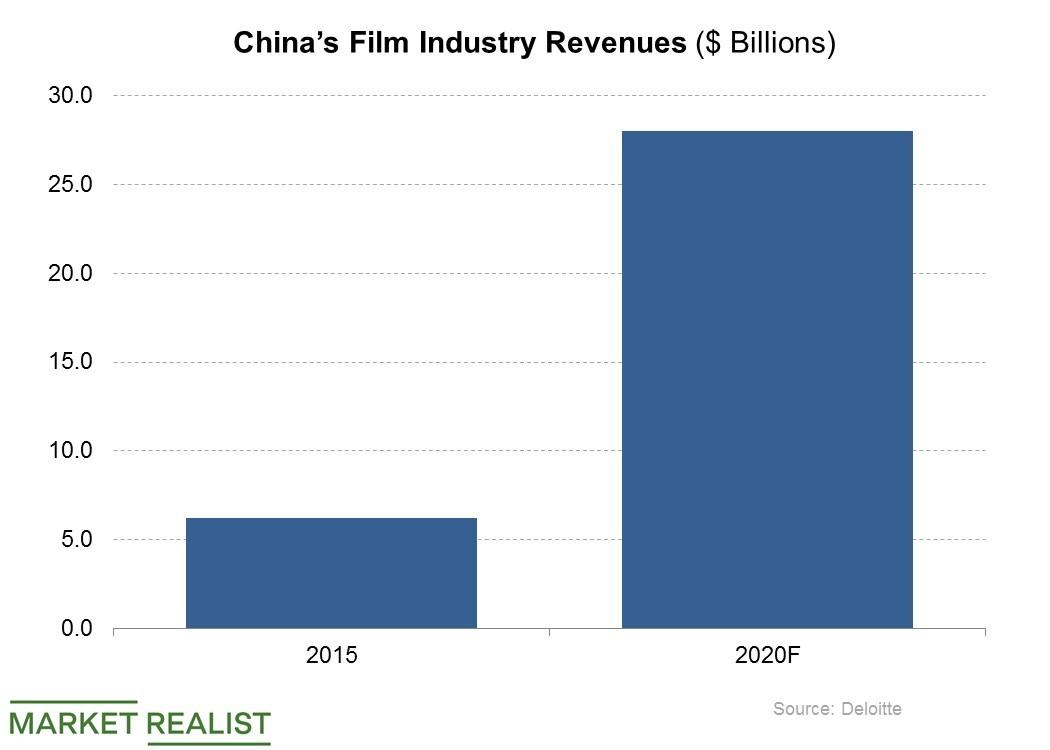 What Opportunity Does Alibaba See in Alibaba Pictures?
By Neha Gupta

Dec. 21 2018, Updated 9:00 a.m. ET
Alibaba Pictures more than doubled its revenue
Alibaba (BABA) said that its decision to increase its stake in film company Alibaba Pictures was a vote of confidence in the business. What makes Alibaba confident in Alibaba Pictures?
Alibaba Pictures more than doubled its revenue to $332 million in 2017, but the company's loss also ballooned to $147 million from $137 million in 2016.
Losses at Alibaba Pictures may not be of great concern to Alibaba because the company is looking at the bigger picture. China's film industry is huge, and it's growing fast. According to a report by Deloitte, China's film industry will grow to $28 billion by 2020, thereby overtaking North America as the world's largest film market by revenue. China's film market generated $6.2 billion in revenue in 2015.
Article continues below advertisement
Setting the stage for deeper collaboration
As a controlling shareholder in Alibaba Pictures, Alibaba sees a future in which the two collaborate more closely to better capitalize on the opportunity in China's booming film industry.
Alibaba operates online video platform Youku, a YouTube-like service. Given China's more than 800 million Internet users (according to Chinese government figures cited by TechCrunch), Youku could help Alibaba Pictures extend its digital reach.
Youku's number of daily subscribers doubled
Alibaba doesn't disclose Youku's audience size, but it said last month that Youku's daily subscribers had doubled year-over-year in the three months that ended in September. 
Tencent (TCEHY) and iQiyi (IQ) exited the September quarter with 82 million and 80.7 million video subscribers, respectively. Netflix (NFLX) closed the quarter with 137 million subscribers worldwide. iQiyi is a Netflix-like video service controlled by Baidu (BIDU), China's top Internet search engine company.