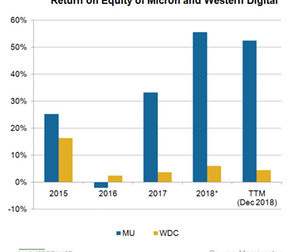 What Micron's Efficiency Ratios Indicate
By Puja Tayal

Updated
Micron's efficiency ratios
Micron Technology (MU) has enjoyed higher profits and cash flows as a result of the memory industry uptrend in the past two years, as it reduced its costs by transitioning to advance cost-effective technology. The investment in advanced technology delivered high returns during the industry uptrend. The company also used the high cash flow to reduce its debt and strengthen its liquidity.
The best way to measure returns is through efficiency ratios, which show the management's efficiency to deliver high returns from low investments.
Return on investment
A company's ROI (return on investment) is subject to its capital structure, as it subtracts its cost of capital from its investment gains. Micron undertook heavy deleveraging in fiscal 2018, which helped it improve its ROI to 43.0% from 21.8% in fiscal 2017. This ROI reduced slightly in the fiscal 2019 first quarter, as its net income reduced due to declining memory chip prices.
NAND (negative AND) chip maker Western Digital (WDC) also reduced its debt by $2 billion, which helped it improve its ROI from 3.1% in fiscal 2017 to 3.7% in fiscal 2018.
Return on equity
A better measure for shareholders is ROE (return on equity), as it removes the impact of debt and shows the profit a company can generate from its shareholder capital. A company can improve its ROE by repurchasing shares, improving net income, or reducing debt. Micron did all three and improved its ROE to 55.5% in fiscal 2018 from 33% in fiscal 2017.
Micron's ROE might fall in fiscal 2019 as its net income falls. The company might be able to slightly offset the fall through stock buybacks. Moreover, it does not plan any significant deleveraging for the rest of 2019. The ROE has already started to fall significantly for Western Digital as declining NAND prices impact its net income.
Given the efficiency ratios, Micron and Western Digital do not seem like a good investment option in the light of current cyclicality. Next, we will look at investors' sentiment towards stocks with exposure to the memory industry.
Check out all the data we have added to our quote pages. Now you can get a valuation snapshot, earnings and revenue estimates, and historical data as well as dividend info. Take a look!