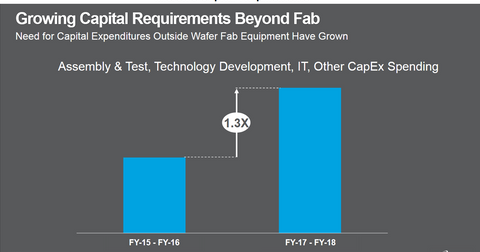 What Investors Should Know about Micron's 2019 Capex
By Puja Tayal

Updated
Micron's fiscal 2019 capex
So far, we've seen that Micron Technology (MU) is looking to lower its output growth rate in light of the weak demand environment. It's cut its fiscal 2019 capex by $1.25 billion from $10.5 billion to $9.25 billion.
On Micron's fiscal 2019 first-quarter earnings call, CEO Sanjay Mehrotra stated that the company remains focused on improving its cost-competitiveness and increasing the mix of its high-value memory solutions. If the company is continuing to invest in advanced technologies, then where are the capex cuts coming from?
Article continues below advertisement
Micron's plan for its fiscal 2019 capex
Mehrotra explained that Micron had increased its capex by 87% in 2018 as the company shifted its spending toward building facilities and clean room space, which is required to accelerate its future technology transition. He added that the company is looking to reduce its costs in terms of back-end test and assembly operations by bringing them in-house. None of this spending has contributed to its output growth.
Mehrotra added that the company has cut its capex on wafer equipment, which is affecting equipment maker Applied Materials (AMAT). This brings us to the question of how Micron plans to reduce its output.
What the capex cuts imply to Micron's investors 
On Micron's fiscal 2019 first-quarter earnings call, an analyst asked Mehrotra what strategy the company would use to reduce its output growth—whether it would slow its technology transition, reduce capacity utilization at its factories, or stop adding capacity. Mehrotra dismissed the third option, stating that the company doesn't spend capital on capacity expansion. However, he didn't speak to the other two options.
If Micron reduces its capacity utilization, the move could negatively affect its gross margin, as it would have to bear factory overhead costs irrespective of the capacity used. If the company slows its technology transition, its research and development expenses could take a hit, and the technology gap between it and Samsung (SSNLF) could widen. The impact of capital cuts could be visible in Micron's fiscal 2019 second-quarter profits.