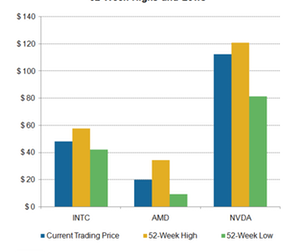 What Factors Will Influence Intel Stock in 2019?
By Puja Tayal

Updated
Intel stock at a glance
So far, we've learned that 2018 has been a record year for Intel (INTC) driven by an unexpected increase in PC and server demand. A company's stock prices in its future growth potential, and that potential is visible in Intel stock.
INTC rose 23% to an 18-year high of $57.6 in the first five months of 2018. This growth came as investors priced in earnings growth through the end of the year.
However, Intel stock began to fall in June as signs of a slowdown in earnings started to appear. Rival Advanced Micro Devices (AMD) geared up to take some share from Intel in the server processor market, and Intel's former CEO, Brian Krzanich, acknowledged it. This acknowledgment was followed by his abrupt resignation.
Article continues below advertisement
Intel has announced a delay in its 10 nm (nanometer) node to the holiday season of 2019 and a supply shortage in the CPU market in the fourth quarter of 2018. While these factors haven't affected its 2018 earnings, they're likely to slow its 2019 earnings. The company's stock is currently trading between its 52-week high and its 52-week low.
Intel's growth triggers
Next year will be an important one for Intel's investors. There are three events that could send the stock up significantly in 2019: the appointment of a new CEO, the successful launch of its 10 nm products and their adoption by the market, and the launch of its 5G modem. These product launches could also drive the company's 2020 earnings growth.
As INTC prices in future growth, the second half of 2019 could be bullish for the stock if the company executes on its planned road map without further delays.
Intel's growth stoppers
However, the first half of 2019 could see some downside, as the stock will be pricing in competition from AMD and a slower growth rate for 2019. The stock could fall significantly if the company announces any further delays in its 10 nm products or if the US-China trade war intensifies.
Next, we'll look at Intel's stock price movement in the near term.