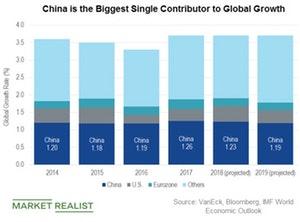 What Could Help China's Economic Growth in 2019?
By VanEck

Jan. 1 2019, Updated 7:33 a.m. ET
VanEck
Don't Fight the PBOC
Despite a growth slowdown and other market economic imbalances, the Chinese government has been doggedly pursuing a reduction in shadow financing. Small and medium-size companies are the major consumers of shadow financing. This raises the question: How can the government be stimulating, when at the same time, it's trying to fix the imbalances in the country's financial system – which is inherently not stimulative, especially for those companies that can actually drive growth?
My answer would be that there are other fiscal and regulatory steps that China is taking that I believe will be net stimulative. Although close up, the story is much more complicated, at the big picture level, I believe it is a case of "Don't fight the PBOC."
Article continues below advertisement
To oversimplify the world economy, there are essentially two engines driving it: China and the U.S. If the Chinese growth rate does start to look a little bit more attractive six to twelve months from now or if the U.S. starts pushing forward, then I think that should help on the margin for commodity demand.
Shifting Bond and Equity Correlation
Looking beyond China, an interesting change has happened to the correlation between stocks and bonds in the U.S. This correlation has started to trend upwards. This means that using long-duration bonds as a shock absorber or hedge in a portfolio may become more difficult. Investors may need to look elsewhere for defensive positioning against equity risk.
Article continues below advertisement
Market Realist
China's favoritism towards state-owned enterprises
China (FXI) (CNXT) has always favored state-owned enterprises despite the strain they put on the country's private sector and despite the US's continuous pressure on China to trim its support for SOEs. Since the 2008 global financial crisis, China has depended on SOEs to drive its economic growth. Almost half of the country's employment opportunities come from SOEs, and to spur more opportunities, China invested more in infrastructure, transportation, and real estate projects in SOEs.
An article by Stratfor in November stated that Beijing has been trying to reform SOEs by consolidating industries. However, this has led to more government control over private businesses, thus creating more uncertainty in the market. Meanwhile, the private sector in China has been feeling the pressure of changes in reforms and trade tensions, as the private sector gets hit the hardest in a slowing economy. The article stated that this conflict between the state and the private sector forced central authorities' hand to change the country's economic course.
Whether China's economic reforms help its assets to get back on track or how trade tensions could further hamper the economic growth of the country is something to watch out for in 2019. Investors interested in gaining exposure to growing companies in China can consider the VanEck Vectors ChinaAMC SME-ChiNext ETF (CNXT).