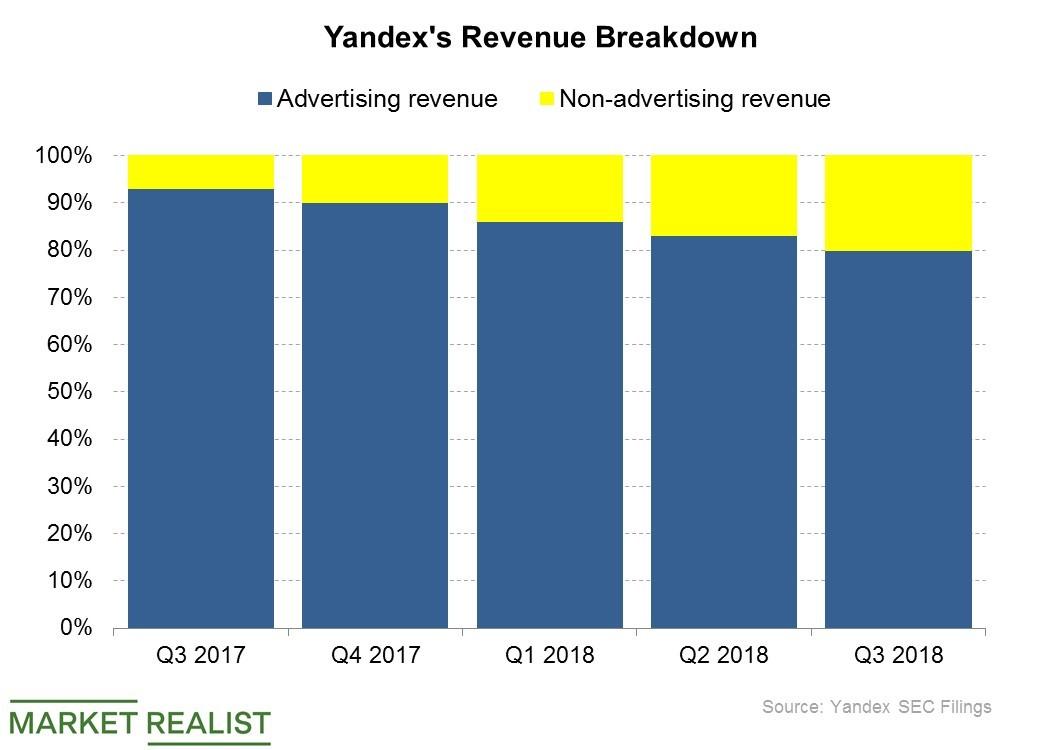 What Are Yandex's Advantages In the Cloud Market?
Diversifying the business
Yandex (YNDX) recently rolled out its cloud computing service across Russia, following a limited launch in September. Yandex's service, Yandex.Cloud, is an attempt to diversify its revenue outside of advertising. In the third quarter, advertising accounted for 80% of Yandex's total revenue, and 86.1% and 80.5% of Alphabet's (GOOGL) and Baidu's (BIDU). Yandex's business diversification push has also focused on the hardware, e-commerce, and ride-hailing markets.
Article continues below advertisement
Yandex enjoys a home advantage in the Russian market
Yandex enjoys several advantages over the competition in the Russian market. First, as Russia is Yandex's home market, the company may have a better understanding of the market's cloud needs than competitors. Second, Russian laws require data of Russian Internet users to be stored locally, which could be easier for Yandex—foreign companies may have to take on extra costs to set up the infrastructure to store data locally.
Yandex up against strong opposition in the cloud
Although Yandex may have home advantage in Russia, the story could change if the company were to take Yandex.Cloud overseas. The global cloud market is currently dominated by Amazon (AMZN) and Microsoft (MSFT), which control 34% and 14% of the market, respectively, according to Synergy Research. In the third quarter, the top-five cloud vendors—IBM(IBM), Google, Alibaba (BABA), Amazon, and Microsoft—together controlled ~70% of the global cloud market in the third quarter.