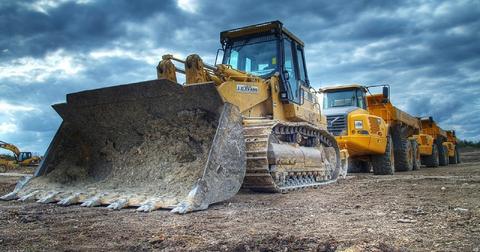 United Rentals Rose Due to Optimistic Outlook, Share Buybacks
By Anirudha Bhagat

Updated
Shares rose
United Rentals (URI) shares rose 6.3% on December 12 after the company reaffirmed its guidance for 2018 and provided an optimistic outlook for 2019. The shares also got a boost from the announcement that the company will resume its share repurchase program.
The optimistic outlook helped the stock regain investors' confidence. United Rentals shares have been battered in 2018 due to concerns about its highly leveraged balance sheet and rising interest rates. United Rentals has lost 37% of its value year-to-date.
The strong 2019 outlook also led to an upswing in competitors' (XLI) share prices. On December 12, Caterpillar (CAT), Terex (TEX), and Oshkosh (OSK) shares rose 1.7%, 1.8%, and 1.7%, respectively.
Outlook update
United Rentals made the announcements during its biennial Investor Day held on December 10 in New York. During the event, United Rentals reiterated its guidance for 2018. The company expects to generate revenues of $7.89 billion–$7.99 billion. Analysts expect revenues of $7.92 billion in 2018.
The adjusted EBITDA is still expected to be $3.815 billion–$3.865 billion. Analysts' consensus estimate is $3.802 billion. United Rentals expect its 2018 operating and free cash flows to be $2.725 billion–$2.875 billion and $1.25 billion–$1.35 billion, respectively.
For 2019, the company expects its revenues to be $9.15 billion–$9.55 billion (the mid-point is $9.35 billion), which implies 16%–20% growth year-over-year. Analysts' consensus revenue estimate for 2018 is $9.18 billion, which is much lower than the mid-point of United Rentals' guidance range.
The adjusted EBITDA is projected to be $4.35 billion–$4.55 billion (the mid-point is $4.45 billion), which is slightly higher than analysts' consensus estimate of $4.40 billion at the mid-point. The operating and free cash flows are expected to be $2.85 billion–$3.20 billion and $1.30 billion–$1.50 billion, respectively.
United Rentals' CEO, Michael Kneeland, said, "Our 2019 guidance reflects the healthy momentum we see going into year-end and our confidence that positive conditions will prevail in the coming year. Our five 2018 acquisitions have been successfully integrated, increasing the tailwinds in our gen-rent and specialty segments. We look forward to reporting our fourth quarter results on January 23."
Share buyback program
Apart from updating the outlook, United Rentals also announced that it will resume $1.25 billion worth of its share repurchase program. The program was initiated in July. The company repurchased $210 million worth of its common stocks through September. However, United Rentals halted the program on November 1 to focus on integrating the BlueLine acquisition.