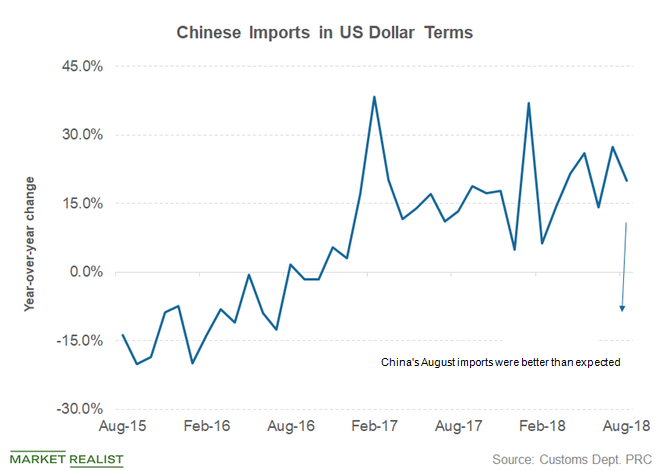 Trade War Truce: US and China's Different Understandings
By Anuradha Garg

Dec. 4 2018, Updated 2:05 p.m. ET
Different understandings?
Like we have seen previously, the US (SPY) (VTI) and China (FXI) might have different understandings regarding the trade war truce. Different views could dampen the agreement. In this part, we'll see what could be points of contention between the two countries.
Article continues below advertisement
US versus China
The US has widely publicized the 90-day condition to resolve the trade issues. If China doesn't resolve the issues, higher tariffs will come into play. The Chinese media hasn't referenced the 90-day period for agreeing on trade terms.
Another difference between the two sides is the effort towards eliminating tariffs completely. While China's foreign minister pointed out that the two sides will work towards eliminating the tariffs, the White House's official statement didn't mention eliminating tariffs.
The White House mentioned that both sides have "agreed to immediately begin negotiations on structural changes with respect to forced technology transfer, intellectual property protection, non-tariff barriers, cyber intrusions and cyber theft, services and agriculture." Technology transfer and the accompanying specifics are lacking in China's version of the statement.
Strategic issues
Another contentious issue that has cropped up more than once between the US and China is the United States' (DIA) approach towards Taiwan and its implied acknowledgment of the one-China policy. In the official statement, China mentioned that the US agreed to respect the one-China policy. The White House's statement didn't mention the one-China policy.
While the US and China's official versions vary, President Trump's description of the deal is different than the official White House version. While President Trump mentioned that China will be "getting rid of tariffs," the official version only mentions that tariffs won't be raised more.
Since there's a wide gap between the US and China's official versions about the agreements in the meeting, they might not be able to reach a long-term agreement within 90 days.