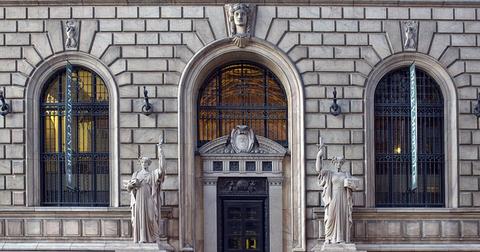 This, Not the Rate Hike, Spooked the Markets Yesterday
By Anuradha Garg

Updated
Fed raises rates, suggests two more in 2019
The Federal Reserve's two-day meeting concluded yesterday. The Fed was widely expected to raise rates for the fourth time this year by 25 basis points, and it did. Afterward, however, the markets were behaving as if something totally unexpected had happened.
Lately, some doubts had crept into investors' minds about whether Fed Chair Jerome Powell would go ahead with the hike given equity market weakness and increasing pressures from President Donald Trump and some well-regarded economists. Still, it wasn't the 25-basis-point hike that spooked the markets.
Article continues below advertisement
Powell's press conference
The markets were still holding up after the Fed's statement signaled two more hikes in 2019 compared to the expectations of three in September. The straw that broke the camel's back, though, came in Powell's post-meeting press conference.
Powell said at the conference that he didn't see the Fed changing the balance sheet policy. The pace of balance sheet reduction acts like tightening in terms of monetary policy. The markets probably didn't like the idea that despite growing market concerns, there wasn't even an option presented regarding the pace of balance sheet reduction.
Impact on assets
This double-tightening spooked the markets, and major indexes gave away their gains, closing in the red. While the S&P 500 Index (SPY) fell 1.5%, the Dow Jones Industrial Average (DIA) and the tech-heavy NASDAQ Composite Index (QQQ) fell 1.66% and 2.5%, respectively.
The yield on ten-year Treasuries (TLT) fell to 2.75%, the lowest level since April, narrowing the spread of ten-year and two-year Treasuries (IEF) to just 13 basis points. The markets have been concerned about the narrowing spread (AGG) in anticipation of a coming inversion, which could signal a potential recession.