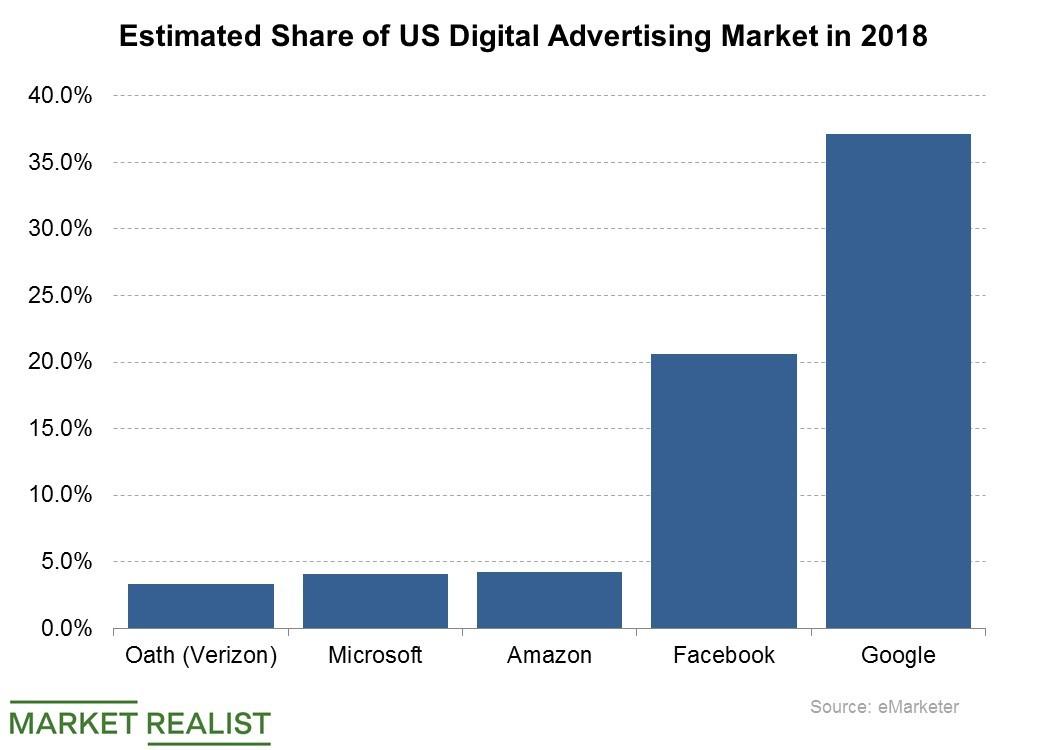 The Shiny Side of Verizon's $4.6 Billion Oath Write-Down
Oath revenue declined almost 7.0%
Verizon (VZ) expects to take a $4.6 billion impairment charge related to its Oath media business in the fourth quarter. Oath is Verizon's media and advertising division, consisting mostly of the AOL and Yahoo assets acquired for more than $9.0 billion between 2015 and 2017.
According to Verizon, Oath has experienced increased competitive pressure in 2018, resulting in lower-than-expected revenue and earnings in the business. Oath's revenue declined 6.9% year-over-year to $1.8 billion in the third quarter. Verizon expects the pressure on Oath to continue in 2019, resulting in Oath losing market share to the competition. Verizon no longer expects Oath to hit $10 billion in annual revenue by 2020.
Article continues below advertisement
Oath to capture 3.3% of US digital advertising market
According to eMarketer data cited by the Wall Street Journal, Oath's share of the United States digital advertising revenue will shrink to 3.3% this year, down from 4.2% in 2017. Google (GOOGL), Facebook (FB), and Amazon (AMZN) are expected to capture 37.1%, 20.6%, and 4.1% of the US digital advertising market in 2018, according to data from eMarketer. Microsoft's (MSFT) share of the US digital advertising market is estimated at 4.1% in 2018. Oath will change its name to Verizon Media Group next year.
Focus investors on network business
By admitting Oath's challenges, Verizon is being open with investors and focusing them on its network business rather than on media breakthroughs at this moment. Verizon wants to lead the 5G network rollout race. It started offering residential 5G service in parts of the United States in October.