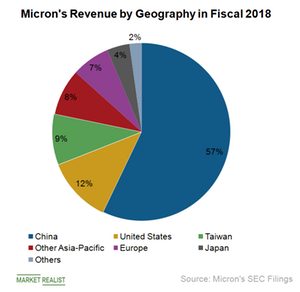 The Extent of Micron's Exposure to the US-China Trade War
By Puja Tayal

Jan. 1 2019, Updated 7:30 a.m. ET
Micron's global supply chain
Micron Technology (MU) has been diversifying its portfolio beyond the PC and mobile markets to the data center, automotive, industrial, and embedded markets. The company earns 57% of its revenue from China (FXI), as the country is a manufacturing hub for almost all consumer electronics. 
Micron has its facilities spread across different countries, with its major operations in Taiwan, Singapore, the United States, Japan, Malaysia, and China. The company has assembly and test operations in China.
Article continues below advertisement
Micron mitigates the impact of US tariffs
In September, US President Donald Trump announced a 10% tariff on $200 billion worth of Chinese imports, including Micron's products. On Micron's fiscal 2018 fourth-quarter earnings call, CFO David Zinsner stated that the company would be leveraging its global supply chain to shift its operations from China in order to avoid US tariffs on Chinese imports. He said the shift would take a year.
Uncertainty haunts the memory market
Initially, the United States was planning to increase the tariff rate on $200 billion worth of Chinese imports from 10% to 25% on January 1, 2019. On December 1, the two countries paused their tariff war for 60 days. If they don't reach a settlement within this timeframe, the 25% rate will come into effect on February 1.
On Micron's fiscal 2019 first-quarter earnings call, Zinsner provided an update, saying that the company had been shifting its operations and had reduced the impact of the tariffs on its gross margin to less than 50 basis points. He expects to mitigate 90% of the impact of the tariffs by the second quarter of fiscal 2019.
Even if Micron succeeds in avoiding the tariffs, the impact on its customers will indirectly affect its own demand environment. The uncertainty in the demand environment created by the US-China trade war is haunting the memory market, making investors and analysts pessimistic. Investors may want to adopt a wait-and-watch approach before rushing to buy Micron, as the stock could fall further.