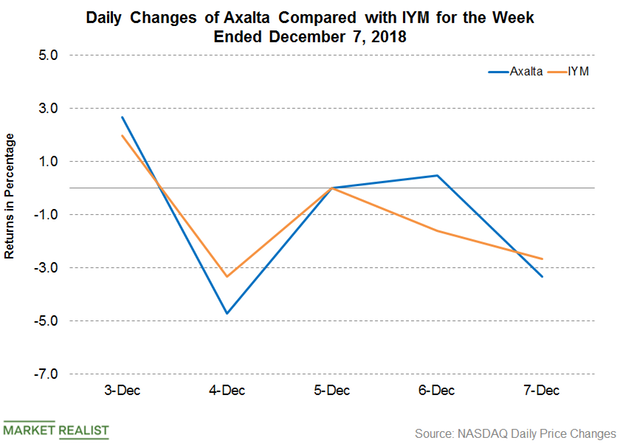 Porsche Approved Axalta's Three Premium Brands
Porsche approved Axalta's brands
On December 6, Axalta (AXTA) announced that it received approval from Porsche AG to use Axalta's three premium refinish brands. The premium refinish brands will be used by Porsche dealerships and body shops worldwide. The brands include Cromax, Spies Hecker, and Standox. Axalta has a 20-year-old relationship with Porsche and holds technical approval for its Spies Hecker and Standox.
The approval could improve Axalta's revenues. In the third quarter, Axalta reported revenues of $1.139 billion, which represents a revenue increase of 4.4% on a year-over-year basis.
Article continues below advertisement
Jurgen Knorr, Axalta's director of key accounts for refinishing systems for Europe, the Middle East and Africa, said, "We are delighted to be continuing our successful partnership with Porsche AG with the inclusion of Cromax in the Porsche AG Paint Manual. The highly productive and value-added paint systems offered by Cromax are a perfect fit for Porsche AG approved body shops and dealerships to enable repairs that maintain the value of a vehicle and to ensure strict warranty requirements are met."
Axalta's stock price update
Axalta continued to fall in the volatile market. Axalta stock declined 5.0% and closed at $23.79 for the week ending December 7. Axalta traded 14.5% below its 100-day moving average price of $27.84, which indicates the downward trend in the stock. Axalta's 100-day moving average has fallen from a high of $32.5 to the current levels. On a year-to-date basis, Axalta has made investors poorer by 26.5%. RPM International (RPM) has gained 16.1%, while Sherwin-Williams (SHW) and PPG Industries (PPG) have declined 5.0% and 12.6%.
Axalta's 14-day RSI (relative strength index) is at 37, which indicates that the stock isn't overbought or oversold. An RSI of 30 and below suggests that the stock is oversold, while an RSI of 70 and above suggests that the stock is overbought.
Axalta also outperformed the iShares US Basic Materials ETF (IYM), which fell 5.6% last week. IYM has invested 0.9% of its portfolio in Axalta stock as of December 7.