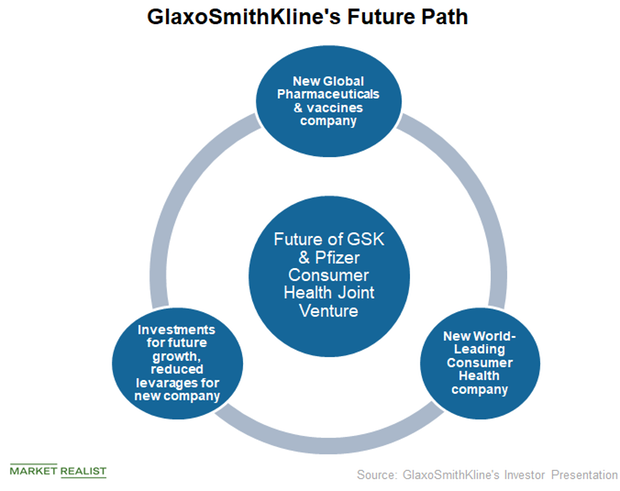 Pfizer and GlaxoSmithKline's Joint Venture: What to Expect
By Daniel Collins

Dec. 21 2018, Updated 3:00 p.m. ET
Background
In March, GlaxoSmithKline (GSK) entered into an agreement to buy out a 36.5% stake of Novartis (NVS) in the GlaxoSmithKline-Novartis consumer healthcare joint venture.
The new joint venture between GlaxoSmithKline and Pfizer will enable GlaxoSmithKline to strengthen its consumer healthcare business.
Article continues below advertisement
Future plans
According to the agreement between GlaxoSmithKline and Pfizer (PFE), within three years after the transaction closes, GlaxoSmithKline plans to separate the consumer health business through a demerger and list GlaxoSmithKline consumer healthcare in the United Kingdom's equity market.
GlaxoSmithKline plans to strengthen its pharmaceutical business and strengthen its research and development pipeline over the next three years. GlaxoSmithKline plans to separate the group, which will enable the two resulting companies to have correct capital structure. The required capital structure for both of the resulting companies will help in future investments and allocating funds for various needs.
GlaxoSmithKline estimated that the new consumer healthcare company would have a better cash flow, which will allow the new pharmaceuticals/vaccines company to function with reduced leverages.
Global opportunity
The Pfizer and GlaxoSmithKline consumer healthcare joint venture will be a leader in OTC (over-the-counter) products in the US market. The joint venture is expected to hold the second position in China's market, which is the world's largest OTC products market.
GlaxoSmithKline also expects that the joint venture will hold the second position in major emerging markets. The joint venture is expected to strengthen the companies' global footprint.