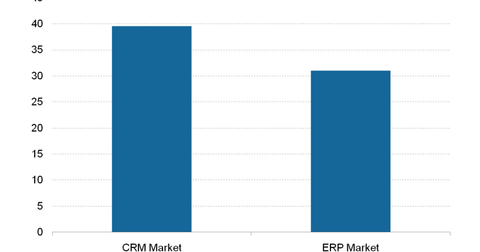 Oracle Is Happy That Its Investment in NetSuite Has Paid Off
By Puneet Sikka

Updated
Fusion and NetSuite products show fast growth for Oracle
In the previous article, we discussed how Oracle (ORCL) is growing its presence in the ERP (Enterprise Resource Planning) market, especially in the ERP cloud market. ERP is the largest segment for Oracle's applications business, and within this segment, Oracle has two main products: Fusion ERP and NetSuite. Fusion ERP consists of two parts: Oracle Fusion Applications and Oracle Fusion Middleware. NetSuite is another ERP player, and Oracle acquired this company in July 2016 for a valuation of $9.6 billion.
Article continues below advertisement
According to Oracle, it now has over 20,000 ERP Fusion and NetSuite customers. Oracle has successfully migrated not only most of its own customers but also competitors' customers from on-premises to the cloud. The company has also mentioned that its Fusion ERP revenue experienced growth of 40% year-over-year in the last quarter. NetSuite showed revenue growth of 26% in the quarter, while its bookings growth was even healthier at 40%.
Microsoft is becoming a tougher competitor in applications software
During its last earnings call, Oracle mentioned that it has continued to invest in NetSuite since acquiring it a couple of years ago. Oracle has invested in research and development, and its sales division claims that NetSuite would not have been able to invest that much in itself had it been still a public company. Management is happy that the investment in NetSuite has paid off.
Similarly, Microsoft (MSFT) has also invested in its Dynamics 365 business to good effect. Dynamics 365 is a suite of applications software products that include ERP, CRM (customer relationship management), the Azure Internet of Things platform, and other business productivity applications.
Dynamics 365's revenue rose at a healthy rate of 51% in the last quarter, making it a significant competitor to Oracle. Microsoft has strategically invested in the lucrative CRM and ERP markets, which are worth ~$40 billion and $31 billion, respectively, according to Gartner.