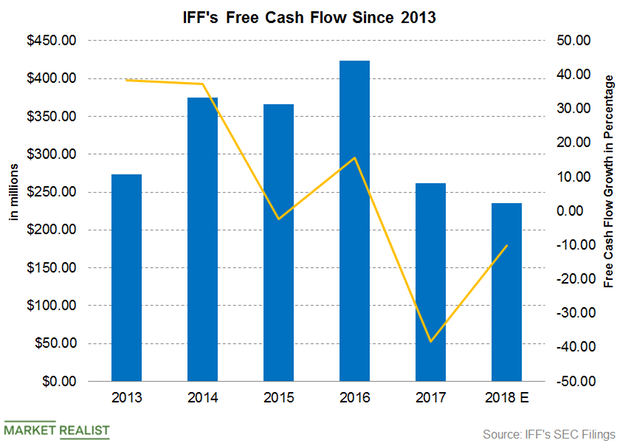 Looking at IFF's Free Cash Flow Trend
By Peter Neil

Dec. 27 2018, Updated 11:25 a.m. ET
IFF's free cash flow
In the previous article, we discussed International Flavors & Fragrances' (IFF) dividend rates and dividend growth.
In this article, we'll discuss IFF's free cash flow trend to see whether the company's free cash flow can sustain its robust dividend growth plans.
In the past five years, IFF has generated an average free cash flow of $340.08 million. In the first three quarters of 2018, the company generated a total free cash flow of $99.53 million, and it's expected to generate a free cash flow of $235.30 million for the year.
Article continues below advertisement
IFF's free cash flow showed an upward trend after 2013, rising from $273.40 million in 2013 to $423.73 million in 2016. However, in the past two years, IFF's free cash flow has been on a declining trend. In 2018, its free cash flow is expected to fall 10.1% compared to the previous year. Its peers Sensient Technologies (SXT) and Estée Lauder (EL) are expected to see falls of 59.4% and 20.4%, respectively, in their free cash flows, while the Clorox Company (CLX) is expected to see free cash flow growth of 3% compared to the previous year.
Is a declining trend a worrying factor?
The declining trend in IFF's free cash flow is worrying. In 2017, ~78.7% of its free cash flow took the form of dividend payments. So far in 2018, IFF has spent more than the free cash flow it's generated on dividend payments. If IFF is to maintain its dividend growth, it needs to improve its free cash flow. If the declining trend continues, it will be difficult for IFF to pay its dividend and to maintain dividend growth in the long term.
Investors can indirectly hold IFF through the Invesco S&P 500 Equal Weight Materials ETF (RTM), which held 4.7% in the stock as of December 24.