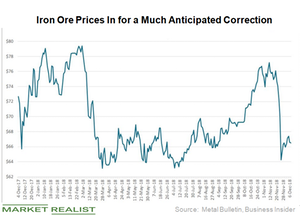 Is the Party Over for Commodities as China Steel Feels the Heat?
By Anuradha Garg

Dec. 12 2018, Updated 2:05 p.m. ET
Fundamentals catching up to steel production
We discussed in Why Iron Ore Is Bucking Falling Price Trends Unlike Other Metals how iron ore prices were diverging from the general declining trend amid China's weakness. We also concluded that weaker Chinese demand fundamentals would catch up with steel production sooner or later, taking iron ore with it.
It seems like it's already time iron ore prices gave way to weakness. On November 26, iron ore prices collapsed, recording their largest one-day fall of 8.4% since April 2017. The day marked iron ore's fifth straight day of falling. The commodity lost ~16% of its value during the period.
Article continues below advertisement
Weaker demand outlook
The major reason for this sell-off was the reports from Chinese steel mills suggesting that mills were offloading inventories. These mills are not replenishing depleting inventories on weaker demand outlook. Weaker steel sentiments also dented the other steelmaking commodity, coking coal, which is down 16% for the year.
While demand started giving way, steel mills kept restocking in anticipation of winter capacity cuts, like last year. This year, however, the cuts are much more benign compared to last year, which has left the mills with a lot of unsold inventory. This unsold inventory coupled with weaker domestic and export demand pressured the commodity's margins.
Is the party over for miners?
During Vale Day, Vale (VALE) said that the recent weakness in iron ore prices had been expected due to the start of the winter season in China. It also attributed weakness to steel mill overproduction in anticipation of capacity cuts. Lastly, it believes that the trade war between China and the United States (SPY) (VTI) is adding to the pressure.
Moreover, big miners such as Vale, BHP (BHP), and Rio Tinto (RIO) have been enjoying higher premiums on higher-grade ore due to China's switch in a bid to control pollution. This switch was supported by higher margins. As margins have waned, it seems like the party might be over for iron ore miners, at least in the short term. The producers of metals such as copper (FCX) and aluminum (AA) have also been under pressure due to China's muted demand outlook.