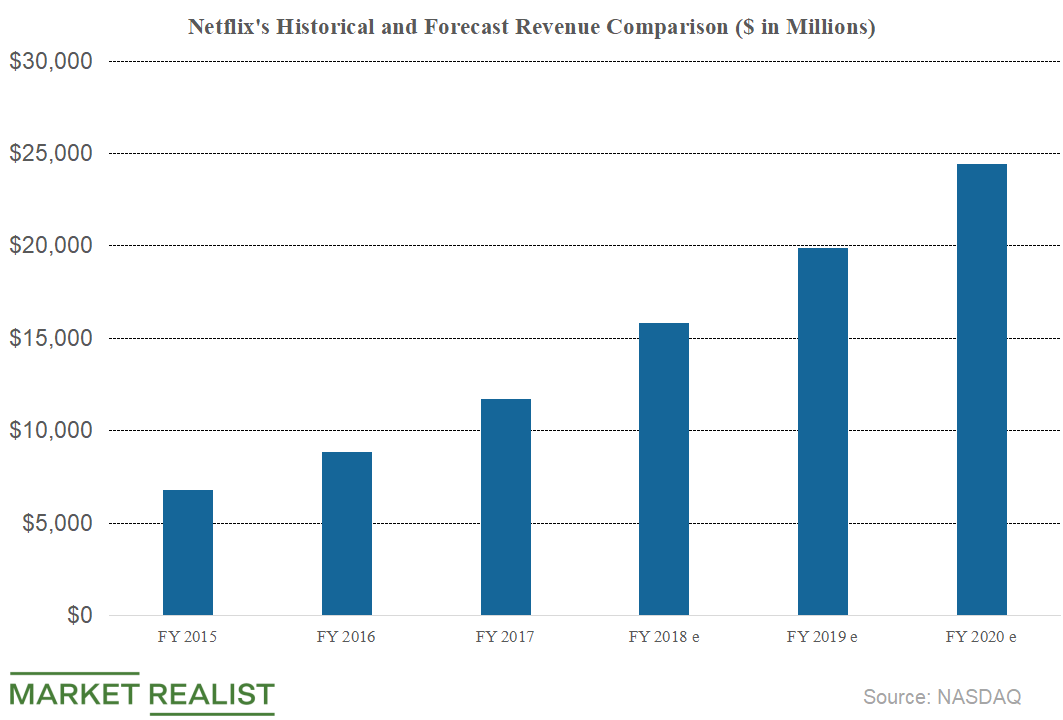 Is Netflix Undervalued after Its Price Rise on December 26?
Stock returns
Netflix (NFLX) stock rose 8.5% to close at $253.67 on December 26. The stock has generated returns of 32% since the start of 2018. It has fallen close to 32% since October and has slipped 11% this month. The stock has generated returns of 117% in the last three years and 420% in the last five years.
Article continues below advertisement
Analyst recommendations
Out of the 41 analysts covering Netflix, 25 recommend a "buy," 14 recommend a "hold," and two recommend a "sell." The average 12-month stock price target for Netflix is $389.85, indicating an upside potential of 54% from current levels.
Netflix's sales are expected to rise by 35.3% to $15.82 billion in 2018 and 25.6% to $19.88 billion in 2019. Sales might further rise by 23% to $244.6 billion in 2020. The company's earnings per share are expected to rise by a whopping 113% in 2018 and then rise by 57% in 2019.
Netflix's EPS are expected to rise at a CAGR (compounded annual growth rate) of 62% over the next five years compared to the annual gain of 50% in the last five years.
Given its robust revenue and earnings growth, Netflix's forward 2018 price-to-earnings ratio of 87.9x doesn't look too expensive. The forward 2019 PE ratio might fall to 55.7x driven by bottom-line expansion.
Netflix's operating margin is expected to rise from 7.2% in 2018 to 13.2% in 2019 and 17% in 2020.