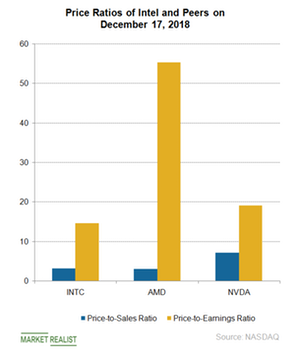 Is Intel's Valuation Attractive to Investors?
By Puja Tayal

Dec. 20 2018, Updated 7:31 a.m. ET
Intel stock's valuation
This year has been a strong one for Intel's (INTC) earnings but a volatile one for its stock. After falling more than 25% between June and October, the stock began to see upward momentum, rising 14.5% since its third-quarter earnings release on October 25.
The stock's growth momentum has improved its valuation slightly, but it's still below its March levels.
Article continues below advertisement
Price-to-sales
The PS (price-to-sales) ratio tells us the amount investors are willing to pay per dollar of a company's sales. On December 17, Intel's PS ratio stood at 3.23x, higher than Advanced Micro Devices' (AMD) ratio of 3.13x but lower than NVIDIA's (NVDA) ratio of 7.25x. NVIDIA's PS ratio fell steeply from 10.65x on October 31 as weakness in the graphics processing unit market resulting from the end of the cryptocurrency trend affected its revenue in the second half and made investors bearish.
Price-to-earnings
The PE ratio tells us the amount investors are willing to pay per dollar of a company's EPS. On December 17, Intel's PE ratio stood at 14.7x, lower than AMD's and NVIDIA's PE ratios of 55.4x and 19.2x, respectively. However, if we look at the trend within Intel's PE ratio, it has fallen significantly from 22.4x on March 31.
Intel's PE ratio fell due to falls in its stock price even though its EPS rose. NVIDIA saw the sharpest drop, with its PE falling to 19.2x from 50.9x on January 31.
Interpreting price ratios
NVIDIA's price ratios have fallen drastically even though they're still higher than AMD's and Intel's. At its current valuation, NVIDIA is an attractive buy for long-term investors because of its strong fundamentals and growth potential in the AI and autonomous driving markets.
Intel is cheap compared to growth stocks such as AMD and NVIDIA. Because it's not a growth stock, though, it looks fairly valued with some upside potential at its current price. A better investment among the three companies under discussion is likely NVIDIA because of its higher efficiency ratios and reduced valuation.