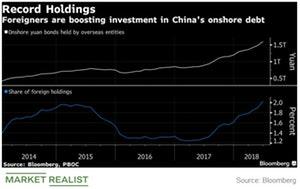 Is China Opening Doors to Its Bond Market?
By VanEck

Aug. 18 2020, Updated 5:32 a.m. ET
VanEck
But the exit door needs to appear open as well in order for foreign investors to explore relatively untested pathways to mainland exchanges. Among the subjects of foreign bond investor scrutiny is the settlement process for trades and a general wariness of local credit ratings in China's bond market, as well as an uptick in defaults amid the country's ongoing deleveraging drive. In addition, frequent trading halts due to volatility have caused uneasiness for overseas equity investors. And now, with trade tensions escalating with the U.S., anxiety is rising.
Even if some investors choose to remain on the sidelines, for now, change is underway. Those with global portfolios would do well to familiarize themselves with the Chinese market as it continues to push forward with opening access, and opportunities, to foreign investors.
Read the full report to learn more about China's changing policies, inclusion in equity and bond indices, and opportunities to access its markets.
Article continues below advertisement
Market Realist
China opens its bond market to foreign investors
China has been very keen on opening up its bond market to foreign investors despite the stock market turmoil and escalating trade tensions. An article by CNBC in October stated China's leading publisher of bond market data and the London-based IHS Markit announced new indexes that offer more transparency into the Chinese fixed-income market. IHS Markit data suggests that foreign investment is just about 2% of the $12 trillion Chinese bond market. So China has been working this year to add its Mainland bonds to global benchmark indices.
The article also stated that rising participation in yuan-denominated assets could boost international exposure for the currency. China's Central Bank has been easing policies to make Chinese bonds more attractive to investors, booting capital inflows in order to stabilize the currency.
The chart above from Bloomberg shows how foreigners are boosting investment in China's onshore debt. A Bloomberg article in September explained that, among the various regulations China has introduced to attract attention to its bond market, is overseas institutions' exemption from certain taxes on interest gains. They will also be allowed to conduct block trades through China's bond-trading link with Hong Kong.
China (FXI)(CNXT) is paving the way for foreign investors' entry into its bond market to stabilize its currency and increase capital inflows. Investors interested in getting exposure to growing companies in China can consider the VanEck Vectors ChinaAMC SME-ChiNext ETF (CNXT).