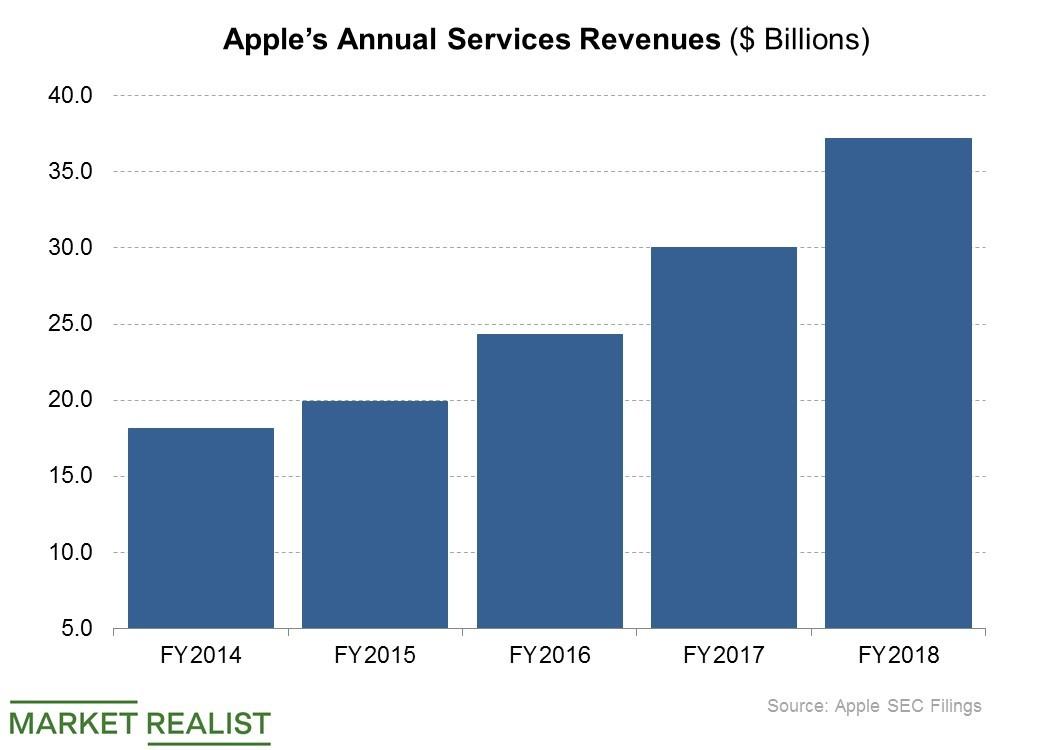 Is Apple Music for Business Users on the Way?
By Neha Gupta

Dec. 14 2018, Updated 3:45 p.m. ET
Apple makes a telling trademark application
The music streaming services of Apple (AAPL), Spotify (SPOT), and Pandora (P) only cater to the personal use market currently. But it looks like Apple is exploring entry into the commercial use market as well. According to Apple Insider, Apple has submitted a trademark application for the term "Apple Music for Business" in the United States.
In the application, Apple mentions transmission of streamed music and video for business use as one of the areas where it would apply the trademark.
Article continues below advertisement
Simplifying music licensing for businesses
The trademark application suggests Apple may be planning to introduce an Apple Music plan that allows for music to be played to the public, either in public gatherings or settings such as a retail store. Currently, businesses have to acquire licenses from music rights organizations to be able to play music to customers in their establishments. A music streaming service for commercial use could simplify music licensing for businesses.
Apple eyeing $50 billion of services revenue
Introducing a commercial music service could help Apple open a new music revenue stream, which could in turn help it grow its services business quickly. Apple is aiming to generate about $50 billion of annual services revenue by 2020. Its services revenue hit $37.2 billion in fiscal 2018, which ended in September 2018.
Music streaming is one of the service areas where Apple is facing tough competition. Spotify currently boasts about twice as many paying music subscribers as Apple. As part of the attempt to push back against the competition, Apple recently struck a deal to bring its Apple Music service to Amazon's (AMZN) Echo devices. It made this move after Spotify entered a deal that makes it the preferred music app on Samsung (SSNLF) devices.