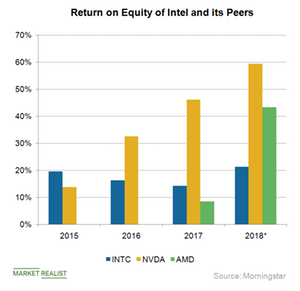 Intel's Return on Equity Rebounds after Three Years of Decline
By Puja Tayal

Dec. 19 2018, Updated 12:35 p.m. ET
Intel's efficiency ratios
Intel (INTC) is enjoying better-than-expected growth in cash flows, and it's using this cash to invest in future manufacturing technology and provide shareholder returns.
From an investor's perspective, a company's investment makes sense when it provides impressive returns in the form of high earnings and cash flows. Long-term investors look to a company's efficiency ratios to understand the returns its management delivers from investments.
Article continues below advertisement
Return on investment
A company's ROI is subject to its capital structure, as it subtracts its cost of capital from its investment gains. Intel has huge debt on its balance sheet, but its cost of capital is low compared to that of its rival Advanced Micro Devices (AMD). On the other hand, NVIDIA (NVDA) has low debt. Because of the difference in their capital structures, the ROIs of these three companies aren't comparable.
Return on equity
A company's ROE (return on equity) shows the profit it can generate from its shareholder capital. A company can improve its ROE by repurchasing shares, improving net income, or reducing debt.
In the first nine months of 2018, Intel spent $8.5 billion on stock buybacks and increased its net income 34% year-over-year. These two factors significantly improved its ROE by 7.1 percentage points from 14.2% in 2017 to 21.3% in 2018. This year has reversed the company's declining ROE trend, which started in 2015.
It remains to be seen whether Intel can continue to increase its ROE in 2019. The company expects its earnings growth rate to slow next year, as it will be difficult to beat its record high 2018 earnings. On the other hand, AMD and NVIDIA are also enjoying strong ROEs, and these figures are likely to continue to impress in 2019.
Intel's improving ROE and impressive shareholder returns make it an attractive stock for long-term investors. The next thing investors look at is a stock's valuation. We'll explore INTC's valuation next.