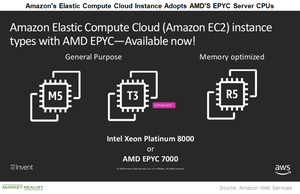 Intel Sees Strong Competition from AMD in the Data Center Market
By Puja Tayal

Updated
Availability of substitutes
Previously, we saw that ARM-based (advanced RISC machine) server CPUs (central processing unit) have been making their way to cloud companies. ARM servers can't replace Intel's (INTC) CPUs when it comes to high-performance workloads, but the availability of substitutes for various workloads could reduce Intel's sales opportunity. Companies such as Google have been looking for substitutes to put pressure on Intel to reduce its prices.
However, Intel is unlikely to lower its prices because of competition. Like it did in the PC market, Intel could shift its focus to high-performance workloads to maintain its high average selling price. However, competition is cropping up even in the x86 architecture.
Article continues below advertisement
AMD adds to the x86 competition
In 2017, rival Advanced Micro Devices (AMD) launched its EPYC server CPU based on the x86 architecture. EPYC received strong adoption from cloud companies. On November 6, AMD announced that Amazon Web Services (AMZN) would adopt EPYC server CPUs, sending AMD stock up 4% and Intel stock down 1%. Amazon Web Services stated that AMD's EPYC reduces the total cost of ownership by 10%.
Amazon Web Services is adopting different CPUs and graphics processing units to broaden its cloud computing instances. If AMD's instances prove to be popular among customers, the adoption of AMD's EPYC CPUs could increase across other clouds, boosting the chip supplier's overall revenue.
AMD is likely to overtake Intel in the server CPU manufacturing node with the launch of its second-generation EPYC CPU on TSMC's (TSM) 7 nm (nanometer) node in early 2019. Intel's competing 10 nm server CPU is unlikely to arrive before 2020, giving AMD a one-year lead. With this lead, AMD expects to gain a double-digit server CPU market share in 2019 from less than 2% in the first half of 2018.
Apart from growing competition, Intel's data center business is likely to see a slowdown in its revenue growth. We'll look into this potential slowdown next.