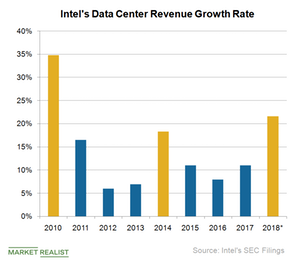 Intel Expects Its Data Center Growth to Slow in 2019
By Puja Tayal

Dec. 19 2018, Updated 7:30 a.m. ET
Intel's data center business
Previously, we learned that competition has been picking up for Intel (INTC) in the data center space, with ARM (advanced RISC machine) architecture and Advanced Micro Devices (AMD) vying to increase the adoption of their server CPUs (central processing unit) by delivering cost savings.
However, nothing can challenge Intel when it comes to its high-performance server CPUs.
Intel saw an unexpected increase in its data center business in the first three quarters of 2018, with its revenue rising more than 20% YoY (year-over-year) in the period. In the third quarter, its data center revenue rose ~26% YoY driven by 50% growth in the cloud market and 30% growth in the communications services market.
Intel's cloud business has been growing in preparation for the AI and Internet of Things revolution. Growth has also picked up in communications services as carriers begin the early deployment of 5G technology.
Article continues below advertisement
The math behind the data center's strong growth
Intel's DCG (Datacenter Group) reported strong double-digit growth in the first three quarters of 2018 as the result of weak single-digit growth in the first three quarters of 2017. Because its baseline revenue was low, strong demand significantly increased its revenue growth rate.
Intel expects the DCG's YoY revenue growth to slow to 12.5% in the fourth quarter, as its growth was impressive in the fourth quarter of 2017. The high growth in last year's comparable quarter resulted in a strong basis for comparison, so its fourth-quarter growth rate is likely to slow. This same math will apply in 2019, thereby slowing the DCG's revenue growth rate.
If we look at the DCG's historical revenue growth rate, after a year of strong growth, the segment reported a period of slow growth that lasted for three years. Intel's DCG revenue could grow in the low to mid-teens in 2019.
To deal with growing competition and slowing growth, Intel is expanding its total addressable data center market by offering a complete Rackspace solution, which includes 3D XPoint memory, silicon photonics, and Xeon scalable processors. Next, we'll look at Intel's data center road map and what it means for investors.