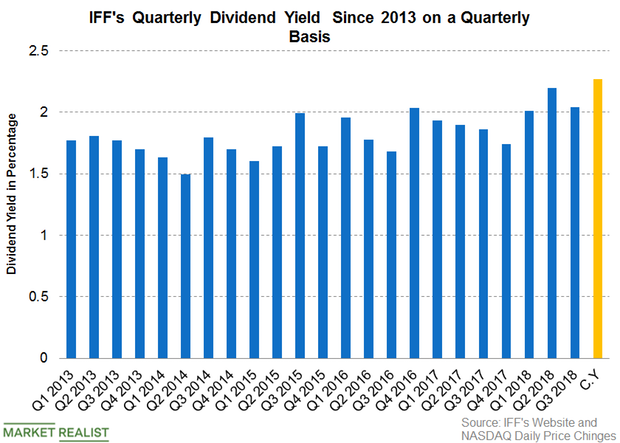 IFF's Dividend Yield Is at Its Highest—Is This Encouraging?
IFF's dividend yield
Article continues below advertisement
What does IFF's dividend yield indicate?
With the exception of Estée Lauder, IFF's peers' yields are better than its own. At the same time, the Fed's continued rate hikes have resulted in risk-free one-year Treasury bonds yielding 2.64%, higher than IFF's dividend.
This difference indicates that at present, IFF doesn't seem to be attractive to long-term dividend investors and thus may not be seen as an alternative option by investors. IFF might have to increase its dividend rate more aggressively to match Treasury yields. However, its declining free cash flow might not allow it to achieve higher dividend growth.
Why IFF's dividend yield increased
IFF's dividend yield increased primarily because of the increase in its dividend rate. However, the other important reason for IFF's dividend yield increase was the significant fall in its stock price. IFF has fallen a whopping ~18.1% since the beginning of 2018.
Investors can get indirect exposure to International Flavors & Fragrances stock through the Invesco DWA Basic Materials Momentum ETF (PYZ), which held 2.8% in IFF on December 24.