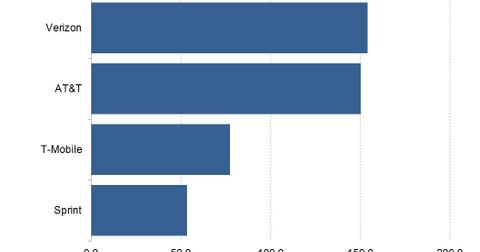 How Verizon's 5G Home Service Is Coming Along
By Ruchi Gupta

Updated
5G Home sold as ideal for cord-cutters
Verizon (VZ) launched its residential 5G service, known as Verizon 5G Home, in four cities in the United States on October 1. The Verizon 5G Home service has entered its third month in December. Verizon still isn't disclosing its 5G Home subscription metrics, but the company recently shared details suggesting that the service is off to a great start.
At an analyst event hosted at its New York City office on November 16, Verizon revealed that as much as 50% of its 5G Home subscribers were not previous Verizon customers, according to a Cowen research note cited by Business Insider. The stat shows that the 5G Home service is helping Verizon take customers from its broadband competitors. It appears cable broadband companies are mostly on the receiving end, as Verizon has positioned its 5G Home service as ideal for cord-cutters.
Article continues below advertisement
5G Home supports 1 Gbps peak speeds
The Verizon 5G Home plan costs $50 per month for existing Verizon customers and $70 per month for new customers. The 5G Home plan offers regular speeds of ~300 Mbps (megabits per second) and peak speeds of up to 1 Gbps (gigabits per second). At the peak, the Verizon 5G Home service rivals cable broadband speeds, and this has put some cable companies on the defensive.
Charter Communications (CHTR), one of the cable companies Verizon is challenging with its 5G Home service, has said it's on track to support 1 Gbps speeds across its footprint by the year's end and to upgrade that to up to 10 Gbps in the coming years.
Verizon is aiming for 30 million households
Verizon is aiming to reach 30 million households in the United States with its 5G Home service in the next few years. The company exited the third quarter with a total of 154 million wireless subscribers on its network compared to AT&T's (T) 150 million subscribers, T-Mobile's (TMUS) 77.2 million subscribers, and Sprint's (S) 53.5 million subscribers.