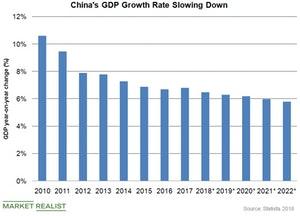 How Is Economic Growth Looking for China in 2019?
By VanEck

Dec. 31 2018, Published 3:51 p.m. ET
VanEck
No More "Boom! Boom!", But Still Solid Growth
Looking forward, investors should get 8-10% GDP growth out of their minds, as I think China will more realistically see GDP growth closer to 4-5%. But the economy is large enough now that at 4% growth, companies can still grow profits at 10-20%, with some sectors growing at even higher rates.
Besides central bank policy, understanding the nature of the regulatory environment in New China is also important—not least because President Xi Jinping favors state-owned enterprises (SOEs)2. Policies that help SOEs tend to be negative for China's private companies as well as for foreign private companies doing business in China.
Article continues below advertisement
The direction of China's economic policy has been uncertain, but in the last couple months, President Xi has signaled that he understands that private enterprise generates most of the jobs in China. That's a key component, but we will continue to watch this space. China is competing for our investment dollars, based on not just growth rates, but also regulatory climate, and it's a competitive world.
Market Realist
China's economic growth slowing down
After China (FXI) (CNXT) shifted its focus from an export-driven, low-cost manufacturing economy to a consumer-led growth economy, its economic growth was expected to boom. However, economic growth in China has slowed down. The country has been intentionally slowing down its growth to tackle mounting debt problems and trade war situations with the United States.
China's Central Bank had already begun slowing its growth by credit tightening and restricting capital outflows. The trade concerns just added to the tough times the country is facing. For Q3 2018, China reported a slowdown in economic growth to 6.5% year-over-year, missing expectations. The chart above shows the year-over-year change in China's GDP. GDP is an important gauge of the economic strength of a country.
A CNBC article in October stated that China's Central Bank cut banks' reserve requirements four times this year to ramp up liquidity and growth amid the trade dispute with the US. Easier monetary conditions like these are expected to support economic growth going forward.
China has always shown favoritism to its state-owned enterprises. Let's take a look at this in the next part.