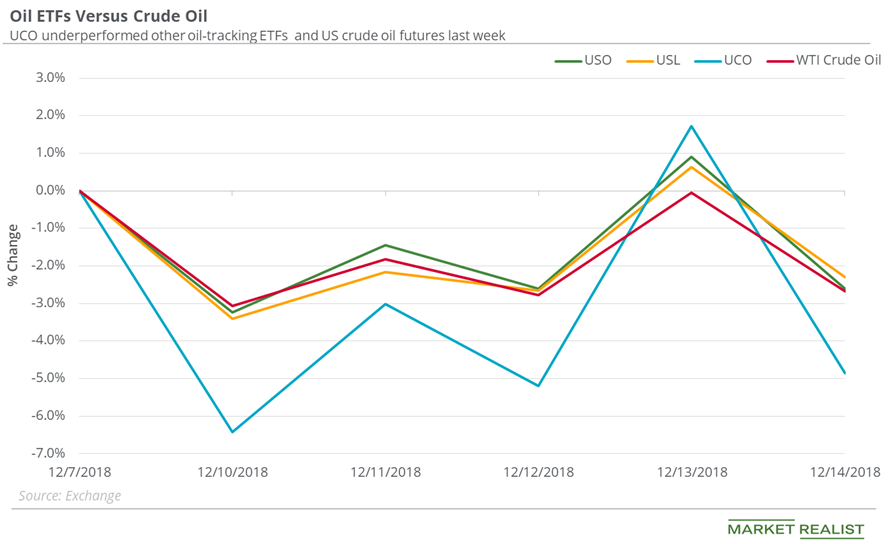 How Did US Crude Oil ETFs Perform Last Week?
Oil-tracking ETFs
US crude oil January futures fell 2.7% last week. USO and USL outperformed US crude oil prices. USO holds active US crude oil futures, while USL holds US crude oil futures' deliverable for each of the following 12 months. UCO tracks twice the daily changes of the Bloomberg WTI Crude Oil Subindex.
A fall in oil prices could have a negative impact on oil-weighted stocks. Callon Petroleum (CPE), Oasis Petroleum (OAS), and Carrizo Oil & Gas (CRZO), the weakest among the oil-weighted stocks, fell 12.7%, 14.5%, and 21.3%, respectively, last week.
Article continues below advertisement
Long-term returns
Between February 11, 2016, and December 14, 2018, US crude oil active futures rose 95.3% from their 12-year low. USO, USL, and UCO rose 35.4%, 39.8%, and 31.2%, respectively. A negative roll yield, which occurs when expiring futures' contract prices are lower than the following month's futures contract prices, might have caused the lower returns. UCO's actual and expected returns could also be different due to daily price changes. In a cost-of-carry model, ETFs' underperformance due to the negative roll yields reflects storage costs.
Forward curve
As of December 14, US crude oil futures for delivery between January and December 2019 closed in ascending order, which could be a negative sign for these ETFs' returns.