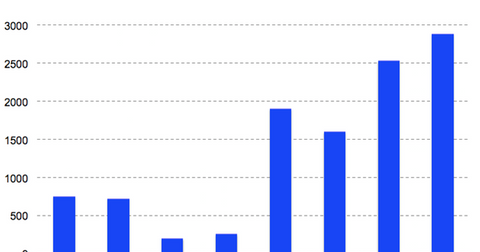 How Amazon Plans to Be More Profitable
By Sanmit Amin

Dec. 17 2018, Updated 10:24 p.m. ET
Amazon is reportedly targeting the removal of unprofitable items
Amazon (AMZN) has been operating its core e-commerce business at an aggressive, razor-thin margin.
The e-commerce juggernaut has been able to do so because of its lucrative and fast-growing businesses, Amazon Web Services, and its digital ad business—especially the former. These units have caused the company's net profits to spike in recent quarters.
According to the latest report by the Wall Street Journal, Amazon is planning to target unprofitable products, as it hopes to improve its bottom line. Amazon wants its customers to buy fewer products that "can't realize a profit."
Article continues below advertisement
Amazon hopes to increase its margins
Popular items bought through the platform, such as packaged water, soda, and snacks, are usually very cheap but cost Amazon more than it would like to ship, meaning that its already low margins get even lower for such items.
According to the report, the e-commerce giant is excluding some items from its platform and working with vendors to change the way it packs some items.
Amazon's revenue growth has been decelerating in the last couple of quarters. Amazon's revenue in the third quarter grew by less than 30% YoY (year-over-year), its slowest growth since the second quarter of 2017, which is why it's looking to improve the margins in its core business, which still makes up a good chunk of its overall revenue. Amazon's operations outside the United States are still not profitable.