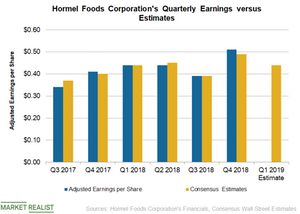 Hormel Foods' Bottom-Line Performance Was Marred by Costs
Fiscal 2018
In the trailing 12 quarters, Hormel Foods (HRL) has beaten EPS estimates five times and matched or missed estimates in the remaining quarters. In the first quarter and third quarter of fiscal 2018, Hormel Foods matched EPS estimates. It fell short of estimates in the second quarter. Hormel Foods reported adjusted EPS of $0.51 for the fourth quarter, which surpassed the projection of $0.49. The EPS rose 24.4% YoY mainly due to a lower tax rate. Also, higher sales cushioned its bottom-line growth amid rising costs. For fiscal 2018, the adjusted EPS was $1.89, which was ahead of analysts' projection of $1.87.
For the current fiscal quarter, analysts expect Hormel Foods to report adjusted EPS of $0.44, in line with EPS reported in the first quarter of fiscal 2018.
Hormel Foods provided EPS guidance for fiscal 2019 in the range of $1.77–$1.91. Analysts' EPS estimate is $1.83. The primary catalyst is expected to be a reduced tax burden. The tax rate for fiscal 2019 is forecast to be in the band of 20.5% and 23%.
Article continues below advertisement
In comparison with other meat and packaged food retailers, Tyson Foods (TSN) has surpassed estimates on three quarters and missed them in the remaining quarter. The adjusted EPS rose on a year-over-year basis in all reported quarters of fiscal 2018. Its bottom line was driven by lower taxes. On the other hand, Sanderson Farms (SAFM) missed estimates in all the trailing four quarters.
Hormel Foods' margins
The first-quarter gross margin fell 270 basis points on account of higher input and freight costs. The second and third quarter gross margin also contracted 100 basis points due to higher costs. However, the fourth quarter margin expanded 80 basis points due to sales growth. SG&A (selling, general, and administrative) expenses were up 4.2%, 12.6%, 19.3%, and 5.3% in the four quarters of 2018.
Going forward, Hormel Foods management has projected freight costs to continue to rise in fiscal 2019. Nonetheless, the SG&A expense rate for fiscal 2019 is forecast to contract due to operational effectiveness. For fiscal 2019, savings are estimated to be $75 million. It achieved $70 million in cost savings in fiscal 2018.