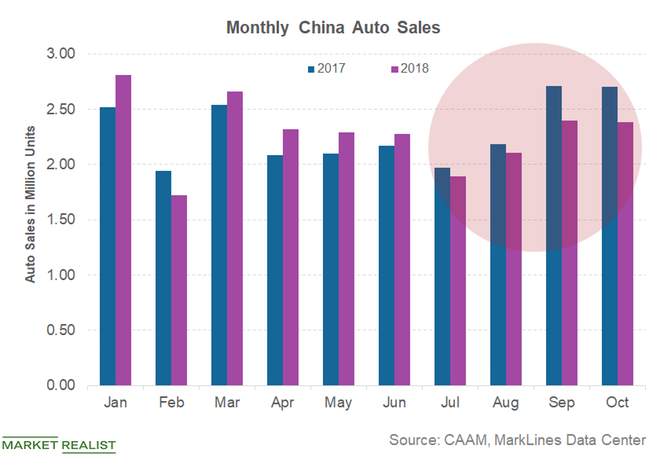 Global Economic Mood: 'Synchronized Growth' to a Slowdown
By Mohit Oberoi, CFA

Dec. 19 2018, Updated 7:49 a.m. ET
Synchronized growth
Towards the end of 2017, the term "synchronized global growth" cropped up. In January, the IMF (International Monetary Fund) raised its 2018 global economic growth forecast to 3.9% from 3.8% and emphasized that the growth was "the broadest synchronized global growth upsurge since 2010." Six months later, the IMF said that "growth has become less synchronized." In October, the IMF lowered its global growth forecast for 2018 and 2019 from 3.9% to 3.7% due to the trade war.
In the past few months, the growth forecast has been toned down for several countries. According to Deutsche Bank, most of the asset classes are in the negative in 2018—the worst year since 1901. What exactly changed the global economic mood from "synchronized growth" to a slowdown?
Article continues below advertisement
China's slowdown
China's slowdown has been among the biggest risks for global markets. The slowdown in China's economy has been amplified by its trade war with the US. While the two sides agreed to a 90-day truce, the damage from the trade war is already done as far as China is concerned. Businesses and consumers have been holding back on their big-ticket buying decisions amid the uncertain economic outlook.
As concerns emerged about the Chinese economy, metal and mining stocks were in the line of fire. Stocks like Freeport-McMoRan (FCX), AK Steel (AKS), Alcoa (AA), and U.S. Steel Corporation (X) are trading with double-digit losses in 2018. The stocks are underperforming the S&P 500 (SPY) by a wide margin.
Along with China's slowdown, the trade war and the Fed's tightening have spooked the markets in 2018.