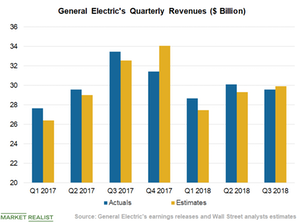 GE's Lighting and Transportation Businesses Struggle
By Anirudha Bhagat

Dec. 11 2018, Updated 7:31 a.m. ET
Underperforming businesses
Apart from the power business, General Electric's (GE) Transportation and Legacy segment's lighting division has also struggled for years. Train budgetary cuts in several global economies and massive competition are hurting the transportation businesses' revenues and margins. Intensified competition from local and regional players in every market is hurting the lighting division's sales.
The underperformance of the businesses mentioned above has been weighing on General Electric's overall revenues and profitability growth. General Electric's third-quarter top-line performance was more disappointing than the performances of most of its peers in the industrial sector (IYJ).
Article continues below advertisement
The company's third-quarter total revenues fell 4% YoY (year-over-year) to $29.6 billion and missed analysts' consensus expectation of $29.9 billion. United Technologies (UTX), Honeywell International (HON), and Crane Company (CR) all reported better-than-expected revenues and marked improvements YoY.
Restructuring plans
For the last few years, General Electric has been evaluating sales and spin-off options to optimize its business. In June, the company announced a massive restructuring plan. Under the restructuring plan, General Electric decided to divest and split off certain assets to focus on only three sectors—aviation, renewable energy, and power.
According to the restructuring plan, General Electric intends to exit the oil and gas business, divest its lighting division, and spin off its Healthcare segment into a standalone company. On November 13, General Electric announced that it entered a series of agreements with Baker Hughes (BHGE). The agreements include a stake sale in Baker Hughes that would raise almost $4 billion for General Electric.
On November 16, General Electric announced that its lending arm, GE Capital, had sold $1.5 billion worth of its healthcare equipment finance portfolio to TIAA Bank. The company announced that it would sell up to 49.9% of its Healthcare business and then spin-off the unit as a standalone company.
For the Transportation segment, General Electric has entered into an agreement with Wabtec. According to the agreement, General Electric will receive a $2.9 billion up-front cash payment. General Electric's shareholders will own 50.1% in the combined company.
General Electric intends to completely divest its lighting division, which generated ~$1 billion in revenues in 2017. The segment's revenues fell 18% YoY to $385 million in the third quarter. As part of General Electric's strategy, the company sold its energy efficiency business unit, Current, to private equity firm American Industrial Partners.