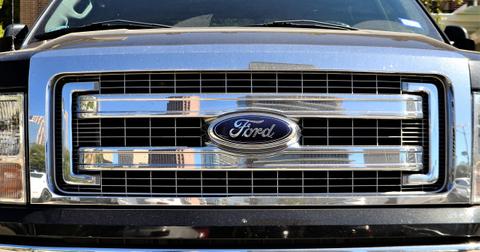 Ford F-Series Risks Prove Money Can't Buy Safety
By Jitendra Parashar

Dec. 27 2018, Published 1:18 p.m. ET
Ford F-Series
The second-largest US carmaker, Ford Motor Company (F), rules the pickup truck segment with its F-Series line. F-Series trucks have been America's bestselling trucks for over four decades now. F-Series trucks are known for their sturdy build, quality, and premium looks, but they come with a hefty price tag. The F-Series Super Duty truck range is much more expensive than Ford's low-priced trucks, yielding solid profitability for the company. However, more expensive trucks don't necessarily mean safety.
Article continues below advertisement
The recent F-Series risks and recall
On December 21, Ford announced a recall of about 874,000 F-Series trucks—410,289 units in the United States and 463,793 units in Canada. According to the company's notification, this recall includes "select 2015-19 F-150 and 2017-19 Super Duty vehicles equipped with engine block heaters." In its recall notification, Ford explained, "Water and contaminants can intrude into the block heater cable's splice connector causing corrosion and damage to the cable over time. Prolonged corrosion in the cable splice connector can cause a short, make the engine block heater inoperable, and/or trip household breakers or GFCI-equipped outlets while the vehicle is parked and the block heater is plugged in."
Ford decided to recall these trucks after three F-Series truck owners reported incidents of fire "originating from the engine block heater cable splice connector."
The impact
In a couple of years, Ford has managed to revive its F-Series sales in its home market. In 2015, the company decided to launch new aluminum-body variants of its F-Series trucks to improve fuel economy and reduce raw material costs.
Interestingly, the strong demand for expensive Super Duty trucks has raised Ford F-Series trucks' transaction price to record levels. In November, F-Series trucks' average transition price was $47,000 per unit, which the company claimed to be $1,800 higher than the segment average.
In the last three months, Ford F-Series sales have fallen 5.8% year-over-year in its home market.
In the pickup truck segment, legacy automakers (XLY) General Motors, Toyota (TM), and Fiat Chrysler compete with Ford F-Series. GM's Chevrolet Silverado, Toyota's Tacoma, and Fiat Chrysler's Ram are some rival light truck brands in the American market.