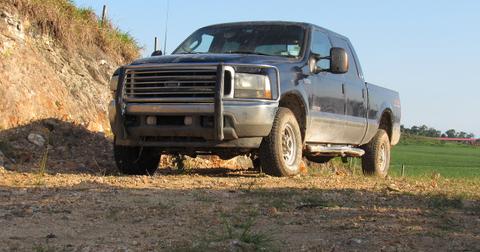 Expensive Ford F-Series Trucks Top the Most Stolen Vehicles List
By Jitendra Parashar

Dec. 13 2018, Published 1:49 p.m. ET
Ford's F-Series
According to a recent list on the IBC's (Insurance Bureau of Canada) website, Ford Motor Company's (F) F-Series trucks are at the top of the list of the most stolen vehicles in Canada so far in 2018. IBC's data show that the 2007 Ford F350 Super Duty truck is the most stolen vehicle in Canada in 2018.
A report by Canada's CBC News quoted John Tod, the national director of the Insurance Bureau of Canada's Investigative Services, saying, "They're very attractive vehicles," and, "It's only a matter of minutes, or seconds in fact…it will be gone, and will be gone in a very, very quick period of time." F-Series truck owners don't seem to be in a much better position in the United States. Let's take a look.
Article continues below advertisement
Prone to theft
In September, a nonprofit membership organization called the National Insurance Crime Bureau published a report in which it claimed that full-size Ford pickup trucks were the third-most-stolen vehicles in the United States in 2017. Last year, Ford's full-size pickup trucks topped the list of the most stolen trucks in the country, coming in ahead of General Motors' (GM) Chevrolet full-size pickup trucks.
In 2015, Ford launched new aluminum body variants of its F-Series trucks to improve fuel economy and reduce raw materials costs at the same time. This move helped Ford revive its F-Series sales in its home market. In recent months, F-Series trucks' average transaction price has risen to a near-record level of $47,000 per unit. This increase in the average transaction price is a result of the strong US demand for premium models of the F-Series truck.
In the first 11 months of 2018, Ford sold ~821,558 units of the F-Series in the United States alone, up 1.8% YoY (year-over-year). However, in the last three months combined, it has fallen 5.8% YoY.
In the pickup truck segment, legacy auto companies (XLY) such as General Motors, Toyota (TM), and Fiat Chrysler Automobiles compete with Ford F-Series. GM's Chevrolet Silverado, Toyota's Tacoma, and Fiat Chrysler's Ram are some of the notable light truck brands in the American market.
US electric carmaker Tesla (TSLA) is also planning to enter the pickup truck segment soon.