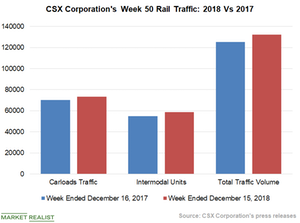 CSX's Rail Traffic Growth Momentum Continues in Week 50
By Anirudha Bhagat

Dec. 24 2018, Updated 4:20 p.m. ET
Carload traffic
CSX's (CSX) rail traffic volume grew 5.6% YoY to 132,231 units mainly due to an increase in carload traffic and intermodal units. In the first 50 weeks of 2018, the company recorded a 1.4% YoY increase in railcar traffic. The railroad's rail traffic gains were lower than US railroad (FTXR) companies' 3.6% gain during the same period.
The eastern US rail giant posted 4.5% YoY carload traffic growth in week 50. The company hauled 73,317 railcars excluding intermodal units in the week compared to 70,171 units in week 50 of 2017. Compared to US rail carriers' 1.4% carload gain, CSX's carload traffic saw much higher gains in the week.
Article continues below advertisement
CSX's carloads of commodity groups except coal and coke made up 74% of its total carload traffic in week 50. The company's coal and coke traffic made up 26% of its total carloads. Traffic of commodity groups excluding coal and coke grew 3.1% YoY in week 50 to 54,030 railcars from 52,394 railcars. Coal and coke traffic increased 8.5% YoY to 19,287 wagons from 17,777 wagons.
Commodity groups (excluding coal and coke) that reported notable volume growth in week 50 include farm & food products, metal products, petroleum & petroleum products, iron & steel scrap, stone, clay & glass products, and motor vehicles & parts. Commodity groups recording a YoY decline in week 50 volumes included non-metallic minerals, chemicals, and metallic ores.
CSX's intermodal volumes
CSX's intermodal traffic grew 7.1% in week 50 to 58,914 containers and trailers from 55,034 units in week 50 of 2017. CSX's YoY intermodal traffic gains remained in second place among all class I railroad companies in the week. Union Pacific (UNP) ranked first with a 12.2% intermodal volume gain. Canadian Pacific (CP) and Norfolk Southern (NSC) were in third and fourth place in week 50 with gains of 6.3% and 5.8%, respectively.
CSX's container traffic increased 6.7% YoY to 55,519 units in week 50 from 52,033 units in the comparable week last year. Its trailer volumes grew 13.1% YoY to 3,395 units from 3,001 units. In the first 50 weeks, CSX's intermodal traffic growth was 2.1% YoY, much lower than US railroad companies' 5.5% YoY gain in the same period.
We'll take a look at Norfolk Southern's rail traffic performance in the next article.