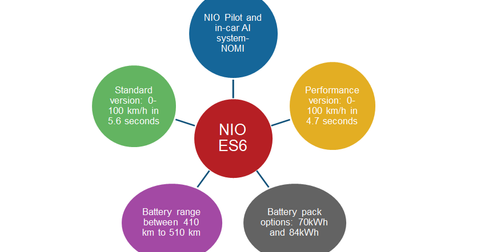 Could NIO's ES6 Get Huge Pre-Orders Like Tesla's Model 3?
By Jitendra Parashar

Dec. 19 2018, Published 10:57 a.m. ET
NIO ES6
In the previous part of this series, we discussed how the popular US electric car maker Tesla (TSLA) played a leadership role in the electric vehicle (or EV) segment. Tesla's success has helped bust many myths related to electric cars' low demand and low-profit margins. Four-year-old Chinese EV maker NIO (NIO) recently launched its new ES6 car model. Let's find out how ES6's demand could be compared to the company's expectations.
Article continues below advertisement
ES6 demand: key factors to consider
NIO didn't seem to get a very positive response from its first mass-market vehicle ES8. As of July 31, NIO had more than 17,000 ES8 reservations with deposits. 12,000 of these reservations were fully refundable. Also, by July 31, the company had already delivered about 481 ES8 car units to customers from these total 17,000 reservations. By the end of the third quarter, NIO had delivered over 5,300 ES8 units. During the company's third-quarter earnings call, its management suggested that some of the customers have canceled their pre-orders due to delay in ES8 car deliveries (XLY). During the call, NIO's CFO Louis Hsieh claimed, "our RMB45,000 production order deposit is healthy with a backlog right now over 5,000. So, order and demand remain solid."
However, this backlog might not be even close to solid, considering that China is the largest auto market in the world. Due to the Chinese market's huge future growth potential, automakers including Tesla, General Motors (GM), and Ford (F) have increased their investments in China lately.
It's important to note that Tesla received over 400,000 reservations for its Model 3 in less than a month after its unveiling event. In contrast, the demand for NIO's ES8 raises doubts about the demand for its ES6. Nonetheless, ES6's cheaper price point as compared to ES8 might help NIO attract more customers in China.
It will be interesting to see how many orders NIO managed to grab after it started accepting pre-orders on December 1. NIO might update investors about its ES6 reservation figures in January during its fourth-quarter earnings event.
Now, let's find out if NIO could prove to be as good an investment as Tesla in the long term.