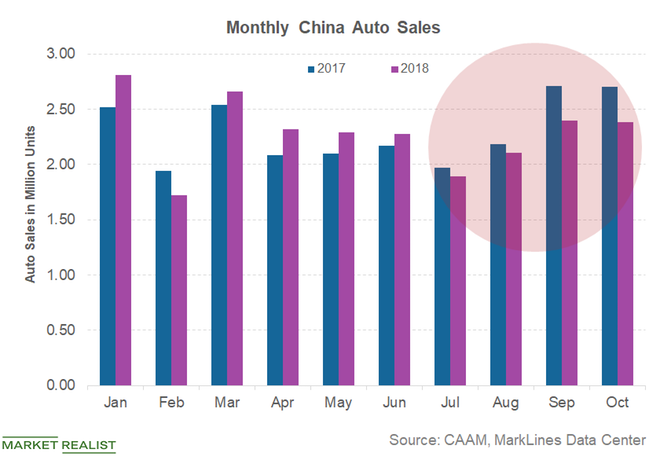 Chinese Leadership Faces Tough Choices amid the Slowdown
By Mohit Oberoi, CFA

Aug. 10 2019, Updated 10:26 a.m. ET
Chinese leadership
While the Chinese economy has been facing several headwinds, some sectors especially, such as real estate and automotive, have shown signs of stagnation.
In 2015, both these sectors showed signs of moderation, after which the Chinese government announced several measures to boost them.
In the real estate sector, the country relaxed lending norms to boost housing demand. In the automotive space, China lowered its purchase tax, which was gradually increased to the original level of 10% starting at the beginning of this year.
Article continues below advertisement
Impact
Moving forward to 2018, we can see that China's car sales have fallen sharply and have registered a double-digit yearly fall in the last three months. The country's car sales look set for a yearly decline this year, something we haven't seen since at least 1990. China is a key market for companies such as Ford Motor Company (F) and General Motors (GM). This year, Chinese electric car maker NIO (NIO), hailed as the "Tesla-killer" (TSLA), also listed on US markets (SPY).
While in 2015, the Chinese government was quick to respond to growth worries, it has refrained from making any concessions for the housing and automotive sectors. If anything, the country has denied reports that it's planning a sales tax cut on cars.
Key question
China has been taking measures to cut its risky lending. Any stimulus for the real estate sector could run contrary to this policy. China's president has also warned against a housing bubble. Last year, at the 19th party congress, he said that "houses are for living in, not for speculation." Reportedly, one-fifth of houses are unoccupied in China.
For Chinese leadership, any stimulus for the construction sector would only mean adding to the housing bubble that's already a risk for the economy. Also, a stimulus for the automotive sector could be counterintuitive given China's efforts to lower pollution.
Meanwhile, along with the United States, other countries are also pressuring China to change its policies on trade and intellectual property rights. We'll discuss this in the next article.