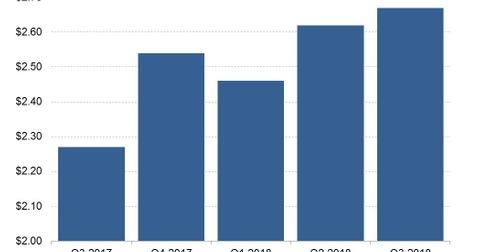 Can Live Video Shopping Lift Facebook's Revenue per User in Asia?
By Neha Gupta

Dec. 19 2018, Updated 3:00 p.m. ET
Promoting its platform as a shopping destination
Facebook (FB) is testing a live video shopping feature in Thailand, one of the countries that make up its Asia-Pacific market. The feature lets merchants showcase their items to viewers via live video streams. Customers can take a screenshot of the item they want to buy during the live stream and then message the merchant directly for more inquiries, such as prices and a delivery schedule. The merchant can then send a payment request through Facebook's Messenger app.
Article continues below advertisement
Facebook is currently not taking a cut of merchants' sales, but the promotion of its platform as a shopping destination could benefit it in many ways. For example, the live shopping feature could help Facebook convert more of its monthly users into daily users, which could, in turn, help it to deliver better returns on investment for its advertisers.
Driving ARPU improvements in Asia
If live video shopping helps Facebook win over more advertisers in Asia or get existing advertisers in the region to spend more on its platforms, its ARPU (average revenue per user) could see a lift in the Asia-Pacific region. The region is currently one of Facebook's low-ARPU regions. Facebook's Asia-Pacific ARPU was $2.67 in the third quarter compared to $27.61 in North America and $8.82 in Europe. The company's worldwide ARPU was $6.09 in the third quarter.
Ad revenue rose 33%
Facebook generated $13.5 billion of advertising revenue in the third quarter, representing an increase of 33% YoY (year-over-year). Alphabet (GOOGL), Twitter (TWTR), and Yelp (YELP) grew their advertising revenues 20.3%, 29%, and 16%, respectively, YoY in the third quarter. Baidu's (BIDU) advertising revenue rose 18% YoY in the third quarter.