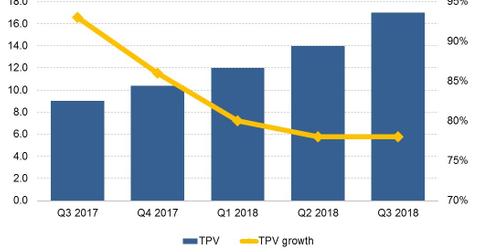 Can Hulu's Venmo Uptake Bring Its Rivals to PayPal?
By Neha Gupta

Updated
Recurring revenue stream
Hulu recently added PayPal's (PYPL) Venmo as a payment option, making it the first online video service to accept Venmo payments. With Venmo, Hulu is giving customers more options to pay for its service. The Venmo payment option will initially be available to customers signing up for Hulu service for the first time, with the rollout to existing Hulu subscribers expected to come later. Hulu serves more than 20 million subscribers.
Article continues below advertisement
For PayPal, Hulu's adoption of Venmo opens a path to recurring revenue given that Hulu's business is subscription-based. PayPal makes money from Venmo by charging merchants a fee for every Venmo transaction processed. Therefore, PayPal is keen to drive merchant adoption of Venmo. PayPal announced a year ago that more than 2.0 million retailers across the United States had adopted Venmo as a checkout option.
Hulu's competitors may want to catch up
It remains to be seen whether Hulu's adoption of Venmo will cause its rivals to make similar moves in order to catch up. Competitors that could add Venmo as a payment option for their customers include Netflix (NFLX), Dish Network's (DISH) SlingTV, and AT&T's (T) DIRECTV NOW. Netflix exited the third quarter with 130.4 million paying subscribers globally. SlingTV and DIRECTV NOW closed the third quarter with ~2.4 million and 1.9 million subscribers, respectively.
Venmo payment volumes rose 78%
Venmo, which started as a peer-to-peer payment service, is popular with young people. PayPal doesn't disclose how many people use Venmo, but its rival Cash App from Square (SQ) closed 2017 with 7.0 million monthly active users. Payment transactions worth a total of $17 billion were processed through the Venmo platform in the third quarter, representing an increase of 78% year-over-year.