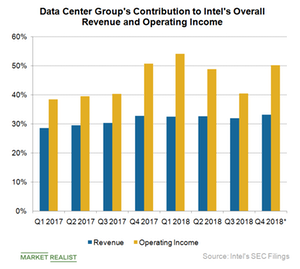 Can ARM-Based Servers Pose a Competitive Threat to Intel?
By Puja Tayal

Dec. 18 2018, Updated 1:30 p.m. ET
Competition in the data center market
Earlier, we saw that ASP (average selling price) is a key growth driver of Intel's (INTC) earnings. The company enjoys a high ASP, as it dominates the PC and server markets with its most advanced x86 processors. It earns 32% of its revenue and 42% of its operating income from its data center business. However, competition is picking up in this market, which is putting pressure on Intel's high ASPs.
There are two widely used processor architectures: the x86 architecture for high performance and the ARM (advanced RISC machine) architecture for low power consumption. ARM beats x86 in the mobile market and is now looking to make its way into the cloud and corporate data center markets.
Article continues below advertisement
In November, Amazon Web Services (AMZN) unveiled cloud computing instances using its in-house ARM-based server processor, Graviton. Amazon Web Services claims that the instances can deliver up to 45% cost savings for certain types of workloads, such as web servers, caches, and apps that depend on a microservices architecture.
The cost savings promised by ARM chips could get many companies interested in trying out Amazon Web Services' ARM instances. Apart from offering ARM servers on the cloud, Amazon Web Services will also sell these servers to customers who can deploy them in their data centers for applications that can't be run in the public cloud.
Should Intel worry about ARM-based servers?
Even though Amazon Web Services has adopted ARM servers, it will still use Intel's and Advanced Micro Devices' (AMD) x86-architecture server central processing units, as ARM can't run all business workloads. Moreover, ARM lacks enterprise software support, and enterprises aren't flexible in terms of adopting new hardware architectures and platforms.
However, the adoption of ARM servers by a large cloud company such as Amazon Web Services has given ARM a good start in the data center space. It could also give ARM the credibility it needs to reach out to other cloud players. If ARM adoption picks up, cloud companies could use a more powerful ARM chip and could even release more instances using ARM chips in the future.
In March, Microsoft (MSFT) demonstrated an in-house ARM-based web server and stated its intentions to use the server to support half of its data center capacity.
Continue reading to learn more about the competitive threat to Intel in the data center space.