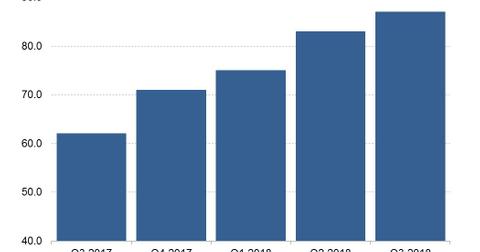 Behind Spotify's Share Repurchase Program
By Neha Gupta

Updated
Spotify planning to return $1.0 billion to shareholders
Spotify (SPOT) announced last month its plan to repurchase up to $1.0 billion of its shares by April 2021. Though somewhat unusual since it comes early on in the life of Spotify as a public company, Spotify is joining other Internet services companies such as Facebook (FB), Alphabet (GOOGL), Alibaba (BABA), and eBay (EBAY), which have lined up large share repurchase programs. Facebook in April added $9.0 billion to its share repurchase program, and Alphabet in February announced a fresh $8.6 billion share repurchase program. Alibaba has lined up $6.0 billion for share repurchases for the next two years, while eBay exited the third quarter with $4.7 billion remaining under its existing share repurchase authorization.
Article continues below advertisement
Shares plunged on soft subscriber growth guidance
Spotify announced the share repurchase program after its stock plunged following it guiding subscriber growth below expectations. The company issued 2018 guidance, showing it expects to close the year with between 199 million and 206 million monthly active listeners, below the 208 million listeners predicted by analysts. Spotify exited the third quarter with 191 million active listeners, 87 million are paying subscribers.
Spotify has $2.1 billion in cash
With its stock currently trading below $140 per share, Spotify's share repurchase program could see the company reduce its outstanding share count as of the end of the third quarter by as much as 4.0%.
Spotify didn't disclose how it intended to finance its repurchase program. But the company closed the third quarter with $2.1 billion in cash.