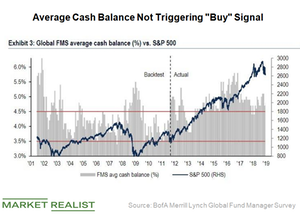 BAML Survey: Why the Bottom for Markets Could Still Be Far Off
By Anuradha Garg

Dec. 20 2018, Updated 10:30 a.m. ET
BAML survey as a contrarian indicator
Investors should remember that the BAML survey is usually taken as a contrarian indicator. After long US dollar trade in December 2015, the dollar plunged more than 8% in the next six months. One thing that stood out from this month's survey was investors' extreme bearishness given the uncertainty regarding economic growth, earnings growth, and other geopolitical concerns. So, would that as a contrarian signal suggest a "buy" for risk assets?
Article continues below advertisement
Bearishness not enough to trigger a "buy" signal
According to the survey, the bearishness hasn't even reached that extreme so as to generate a contrarian "buy" signal. For one, the cash levels in December inched up to only 4.8% from 4.7% in November. While they are still higher than the average of 4.5% over the last ten years, they are still not high enough to trigger a "buy" signal.
Moreover, in its last survey, the Bank of America had concluded that "the big low" in asset markets is still not in and the bottom remains elusive. There is likely more downside to the current market weakness before it hits the bottom and starts its sustained rise upwards. Until then, investors should brace themselves for impact and position according to their risk appetites.
Where to hide?
Goldman Sachs (GS) and Bank of America suggest investors turn to cash as growth in the equity space (DIA) slows down. Bank of America Merrill Lynch equity and quantitative strategist Savita Subramanian believes that yields for cash are higher today than for 60% of S&P 500 companies (SPY). GS expects cash to represent a competitive asset class to stocks for the first time in many years. Like most market participants, GS also believes that since the bull market in the US (VTI) is not overstretched, it might eventually end.
In the next and concluding part of this series, we'll discuss why precious metals and especially gold could be one of the beneficiaries of investors' rotation into defensives.