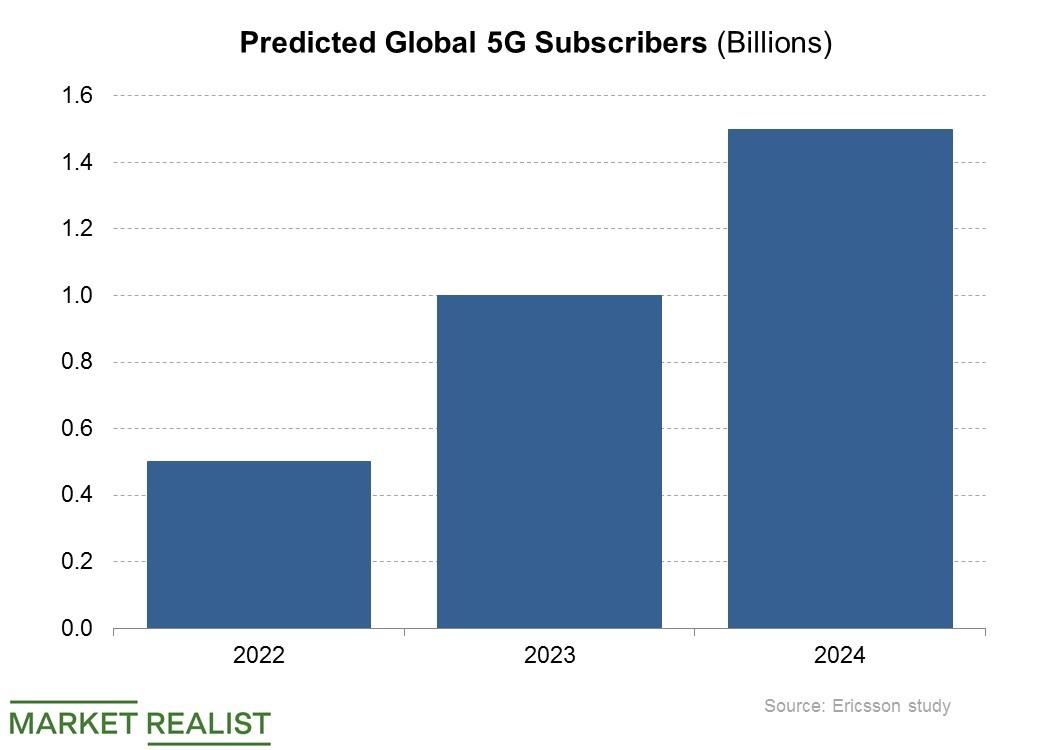 AT&T: 5G Brings High Hopes and Growing Pains
By Ruchi Gupta

Dec. 31 2018, Updated 10:31 a.m. ET
North America to lead 5G uptake
According to Ericsson, there is strong consumer interest in 5G connectivity. The latest Ericsson Mobility Report shows that there will be 1.5 billion 5G subscribers globally by the end of 2024. North America, AT&T's (T) market region, is expected to lead the 5G uptake. The report predicts that 5G will account for 55% of mobile subscriptions in North America by the end of 2024. The arrival of 5G connectivity is expected to expand existing revenue streams and create new ones for wireless operators.
Article continues below advertisement
But in the meantime, there are pains for the operators to bear in the race to lead the 5G rollout. For instance, AT&T and Verizon (VZ) have had to offer free services and give away free devices to get customers to try their 5G networks. AT&T launched its mobile 5G service on December 21, and the operator will give select customers free service for at least three months. On top of the free service, select customers will also get a free hotspot device to enable them to connect to AT&T's mobile 5G network.
Verizon also said in September that its 5G Home service would be free for three months as a special introductory offer. On top of the free service, Verizon also offers either Apple TV device or Google's Chromecast Ultra device free to customers to sign up for its 5G Home service.
Efforts to speed up 5G uptake
AT&T and Verizon have not disclosed what it would cost them to give away free devices and render free services for several months on their 5G networks. But the freebies highlight the lengths that operators are willing to go to get people to try out their 5G services given the high expectations they have for 5G.
Operators are also ordering 5G phones directly from manufacturers in what appears to be another attempt to try to speed up 5G uptake. AT&T and Verizon have teamed up with Samsung (SSNLF) to make 5G smartphones compatible with their 5G networks. Sprint (S) has partnered with LG Electronics and HTC on 5G devices.
Aside from smartphones, Intel (INTC) has partnered with Microsoft, Lenovo and others on a program to bring 5G-compatible laptops to market next year.