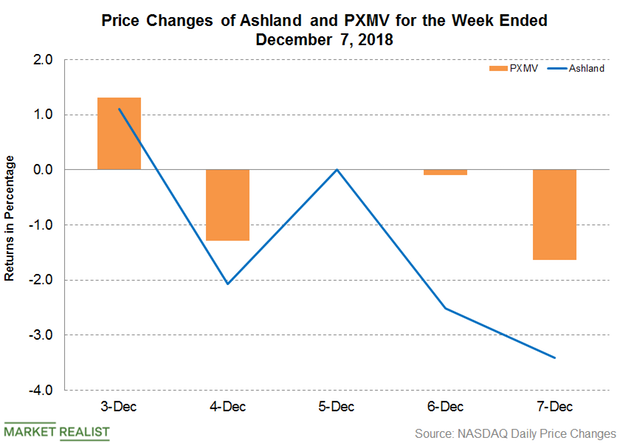 Ashland Completed HEC Production Expansion in China
By Peter Neil

Dec. 10 2018, Updated 9:41 a.m. ET
Ashland's expansion
On December 3, Ashland (ASH) announced that it completed the expansion of Natrosol HEC (hydroxyethylcellulose) in Nanjing, China. The plant expansion caused the site output to increase 30%. The expansion will likely give Ashland an advantage over its cost of production.
HEC is one of the products that serve several industries like personal care, oil and gas, construction, coatings, and pharmaceuticals. Apart from China, Ashland HEC has facilities in the Netherlands and the US.
Article continues below advertisement
Chris Brown, Ashland's vice president and general manager of the coatings division, said, "This capacity expansion enables us to support our customers' growing demand for Natrosol HEC. Continuing to maximize our current network provides Ashland with a better return on capital versus building a new plant while also strengthening our cost position."
Stock price update
The sell-off in the US market had a negative impact on Ashland. Ashland stock fell 6.8% and closed at $76.33 for the week ending December 7. The decline pushed the stock price to trade 6.6% below the 100-day moving average price of $81.71. Ashland's 100-day moving average price is on an upward trend. However, the stock marginally came down from a high of $82.36, which indicates bullishness in the stock. Despite the big fall, on a year-to-date basis, Ashland stock has risen 7.2%. Ashland's 14-day relative strength index was at 37, which suggests that the stock isn't overbought or oversold.
Ashland underperformed the Invesco Russell MidCap Pure Value ETF (PXMV), which declined 1.7% for the week. PXMV invests 1.3% of its portfolio in Ashland. PXMV also provides exposure to Dish Network (DISH), Scana (SCG), and CNA Financial (CNA) with weights of 1.2%, 1.2%, and 1.1%, respectively, as of December 7.