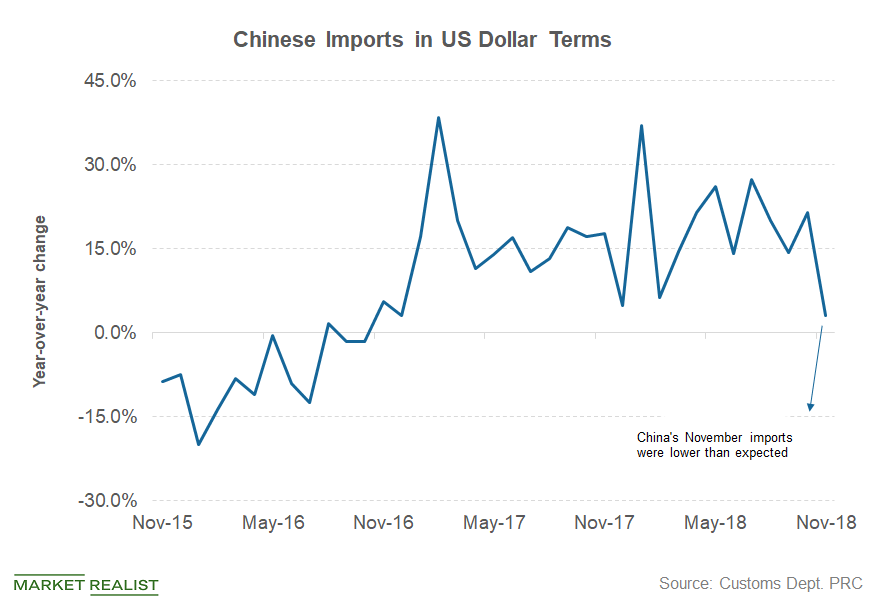 Are Headlines Getting More Pessimistic than the Economy?
By Mohit Oberoi, CFA

Dec. 25 2018, Updated 7:30 a.m. ET
Economy
As we noted previously, asset prices repriced themselves for "synchronized global growth" in 2018. Now, observers are calling for a "synchronized global slowdown" and asset prices, including equity and commodities, have repriced themselves for lower growth in 2019.
Article continues below advertisement
Slowdown
We certainly look headed for a growth slowdown next year. Most leading economies, including the US (SPY) and China (FXI), are expected to record lower growth in 2019 compared to 2018. In the US, corporate earnings growth is expected to fall sharply next year after tax cuts lifted the earnings growth in 2018.
Too bearish?
While the headlines are getting pessimistic every day, the global economy doesn't really look all that sluggish. Consumer demand has been reasonably strong in the US. In China (BABA), although retail sales growth fell to multiyear lows in November, the country is looking at boosting the growth through stimulus. The Chinese government has several tools at its disposal to address the slowdown. Looking at metal markets (X), global steel production is still running strong, which suggests that it isn't all gloom and doom with the global economy.
Last year, markets got a little too carried away with the 2018 growth story. Are markets getting too pessimistic about the outlook for 2019? We'll have to wait and see. As stocks get more reasonably priced, we could see some value buying (BRK-B). One possible trigger could be positive progress in the US-China trade relations. Both countries have enough incentives to arrive at an amicable solution.
While a growth slowdown will likely hit the global economy next year, some of the pessimism already looks baked in the asset prices.