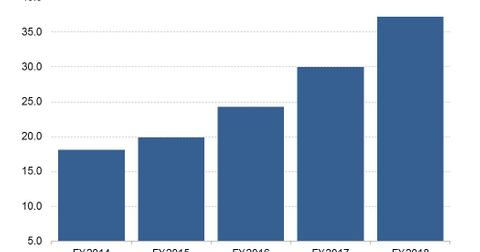 Apple: Certain iPhone Sales Are Banned in Germany
By Ruchi Gupta

Updated
Sales of certain iPhones prohibited in Germany
Recently, a court in Germany ordered a ban on certain iPhone sales in the country. The ban happened after Qualcomm (QCOM) convinced the court that certain models of Apple's (AAPL) iPhones infringed on its patent.
Can Apple survive the iPhone sale ban in Germany? Citing analyst Stacy Rasgon of Bernstein, Reuters reported that Germany is a tiny iPhone market for Apple. According to the analyst, Apple sells roughly ten million iPhones in Germany per year. The ban will likely only impact half of the iPhone units that Apple sells in the country.
Article continues below advertisement
Germany accounted for less than 5.0% of global iPhone unit sales
Apple sold 217.7 million iPhone units globally in fiscal 2018. Apple sold 46.9 million iPhone units in the final quarter of the fiscal year ending in September. Samsung (SSNLF), Huawei, and Xiaomi shipped 73.4 million, 52.2 million, and 33.2 million smartphone units, respectively, in the September quarter, according to data from Gartner.
If Rasgon's estimate about Apple's iPhone unit sales in Germany is accurate, then the German market accounted for less than 5.0% of Apple's global iPhone unit sales in the latest fiscal year.
Apple fighting the iPhone sale ban
Although Germany might be a tiny market for the iPhone, Apple is still working to restore its iPhone sales in the country. Apple is appealing the court ruling that banned iPhone sales.
Apple generated revenues of $62.9 billion and a profit of $14.1 billion in the September quarter. Alphabet (GOOGL) and Microsoft (MSFT) posted profits of $9.2 billion and $8.8 billion, respectively, in the September quarter.