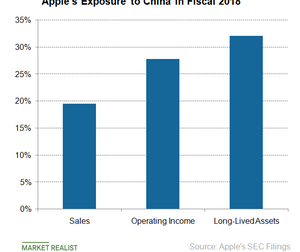 Apple Appeals iPhone Sales Ban in China and Germany
By Puja Tayal

Updated
Apple appeals Chinese ban
Apple (AAPL) is facing a sales ban on some of its older iPhone models in China (FXI) and Germany (EWG), as Qualcomm (QCOM) succeeded in proving that the iPhone maker infringed on the chip supplier's patents. Apple has appealed both the courts' decisions.
Apple argues that a Chinese ban will force it to settle the lawsuit with Qualcomm, which was originally related to the chip supplier's licensing model. The iPhone maker added that a settlement could adversely impact China's smartphone industry, as it would have to pay a higher licensing fee to Qualcomm, which would impact its profits.
Moreover, Apple argued that the iPhone ban could hurt the Chinese government and supply chain. It explained these impacts as follows:
Article continues below advertisement
The company noted that it sold 50 million iPhones in China in 2017. The Chinese government could lose out on the tax it earns from these device sales.
The company assembles a major portion of its iPhones in China. A ban on iPhone sales could impact the Chinese supply chain, which has high exposure to Apple.
The above arguments come as the US International Trade Commission found Apple infringed on one of Qualcomm's patents but refused to impose a ban over fears that it might hurt competition. This brings us to the question of why Qualcomm is seeking a ban on iPhone sales.
What iPhone bans mean to Qualcomm
Qualcomm was the exclusive modem supplier for iPhones until 2016 when Apple sourced some modems from Intel (INTC). In 2017, Apple filed a licensing lawsuit against Qualcomm, asking the latter to charge royalty at chip-level instead at device-level. Qualcomm refused chip-level licensing, as it would significantly hurt its operating income. To put pressure on Apple to settle, Qualcomm sought an iPhone sales ban in the United States, China, and Germany.
Both companies could use a settlement as a last resort, as a lot is at stake. For Qualcomm, the licensing model is at stake, and for Apple, the licensing fee is at stake. It remains to be seen how far the two companies will go before reaching a settlement.
Check out all the data we have added to our quote pages. Now you can get a valuation snapshot, earnings and revenue estimates, and historical data as well as dividend info. Take a look!