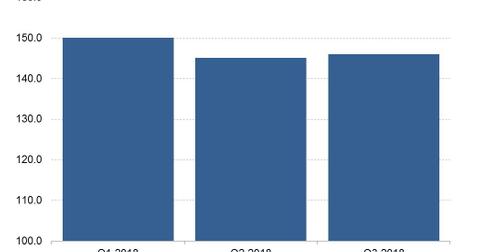 Another Alphabet Bet Looks Ripe for Serious Business
By Neha Gupta

Updated
Other Bets to begin its commercial journey with free trials
Alphabet's (GOOGL) drone delivery subsidiary, Wing, looks to be nearing commercialization. Wing is planning to launch its drone delivery service in Finland next spring, initially offering free services. A commercial service is expected to follow once the trial is completed. The Finnish entry marks its first operations in Europe.
Wing is a member of Alphabet's mostly experimental business segment, Other Bets. The segment's businesses typically start with free trials before fully commercializing their products or services. Waymo, a prominent Other Bets member focused on self-driving, recently launched a commercial ride-hailing service using self-driving vehicles after offering trial services for months. Loon, the Alphabet subsidiary that provides Internet connectivity using specially designed gigantic balloons, is on pace to make money from its technology next year.
Alphabet's Wing has been testing its drone delivery service in Australia, and Amazon (AMZN) has been undertaking drone delivery tests in Europe. Laws in the United States currently restrict drone operations there.
Article continues below advertisement
Going beyond the advertising industry
In addition to creating new revenue streams, Alphabet is betting on its subsidiaries, such as Wing and Waymo, to diversify outside the advertising industry. In the third quarter, advertising accounted for 86.1% of Alphabet's total revenue, and 98.5%, 85.8%, and 82% of Facebook's (FB), Twitter's (TWTR), and Baidu's (BIDU) total revenue, respectively. Like Alphabet, these companies are seeking new revenue sources outside advertising. Alphabet generated $146 million in revenue from its Other Bets segment in the third quarter.